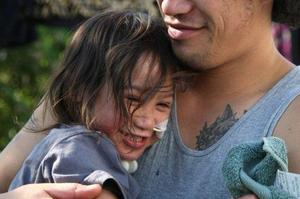 Rikiau West-Pakuria has a smile that lights up the room.
But as the 3-year-old lay in an induced coma after a horrific dog attack, there were times when his parents Eulia West-Pakuria and Rik Pakuria thought they might never see that smile again.
In the attack, eight weeks ago yesterday, Rikiau was bitten in the throat by his aunt's dog and suffered critical injuries that needed major surgery.
He was put in an induced coma to help him recover.
The weeks that followed were a living nightmare for Eulia and Rik, not knowing if their cherished boy was going to live.
But they say Rikiau is a fighter and this week, they've finally returned home and are trying to get back to some kind of normality.
For now, Rikiau can't talk. Before the attack he was a wee chatterbox, his parents say, but now he's having to communicate through signals.
The prognosis is good though, they've been told he will one day talk again.
Until now, the family has not spoken publicly about the attack, focusing their attention on getting their boy better.
But they want people to know Rikiau is doing well and they want to thank the many people who have helped them over the past eight weeks.
They said they hold no grudge against Eulia's sister, whose dog attacked Rikiau. They say it was just one of those things.
Rikiau was at his aunt's house with his 17-year-old brother and his mum's 20-year-old cousin when the attack occurred.
Both of his parents work for Ashburton Meat Processors - Rik on day shift and Eulia on night shift - but on January 18 Eulia got called in to cover a day shift.
She had no qualms about dropping Rikiau off with family. The dog, Boy - a doberman staffordshire terrier-cross and the offspring of their own dog Starsha - had not been a problem in the past.
But on that day, as Rikiau went to put a chocolate into his mouth, Boy lunged and grabbed him by the throat.
With the help of workers from Ashburton Contracting Limited, who happened to be working near the King Street house at the time, they managed to stem the loss of blood until emergency services arrived.
Rikiau was taken to Ashburton Hospital before being flown to Christchurch Hospital where he underwent the first of nine operations he's had so far. Two days later he was transferred to Auckland's Starship Hospital via air ambulance to receive specialist emergency paediatric care.
Rik and Eulia found out about the attack on their lunch-break. The first time they saw Rikiau after the attack was at Ashburton Hospital.
"He didn't look like our baby,'' Eulia says.
"And that night after the major surgery in Christchurch he was unrecognisable; it was like his whole face was all swollen and puffed out.''
There were tubes and wires everywhere, and he was on life support.
When Rikiau was transferred to Auckland, his parents were put up in Ronald McDonald House.
"It was touch and go for the first three weeks,'' Eulia says.
"We thought our luck had run out at one point but we look at him now and there are so many kids that aren't going to go home.''
After a couple of weeks there, progress started being made. Soon he was back on to solid food and was eventually discharged and allowed to stay at Ronald McDonald House with his parents for the last nine days.
"Now he's a cheeky monkey just like he was before,'' Eulia says.
They didn't know how long they'd be in Auckland. Eulia is due to give birth to the couple's seventh child in July and she was told she might have to have the baby in Auckland. But she was determined that wouldn't happen and Rikiau's fighting spirit has meant the family's newest member should be born in Ashburton - the town they moved to five years ago, from Napier, and now call home.
Rikiau's airway is currently being dilated by a balloon and he has a tracheostomy tube in his throat. It needs cleaning out up to 15 times a day and his parents can't leave the house without taking the suctioning machine and a full emergency kit with them.
In order to bring Rikiau home, they had to undergo intense training in how to look after him.
He can eat solids now, but can't have fluids. Fluids are fed to him through a tube in his nose.
And in three weeks, Rikiau has to be back at Starship for an operation to rebuild his voice-box.
"We don't know how long he will have to have the trachy for, but it will be a long time,'' Eulia says.
The road so far has been long and while there's still a way to go, the family are prepared. They know at the end of it they'll have a happy, healthy boy again and the only physical reminder is likely to be scarring on his throat.
But despite his experience, Rikiau isn't fazed by dogs.
"He knows what happened and he knows who did it,'' Eulia says.
- APNZ