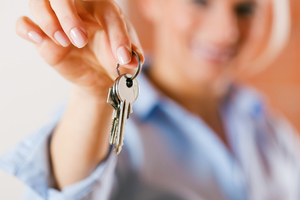 Auckland tenants are furious some landlords are taking advantage of the housing shortage by raising the weekly rent, sometimes as much as 40 per cent.
But property managers say the practice is rare and the high market rent is driven mostly by tenants who will pay anything for a place to live.
After highlighting the $55 jump in median weekly rent in the city in February, the Herald was swamped by responses from tenants who felt their rents were being raised excessively.
Solo mother Leela - who did not want her full name published - was told the rent for her three-bedroom Grey Lynn apartment would be rising from $375 to $525 to align it with the market rate for the area. It was the second increase in two years.
Her weekly payment is still below the median for a three-bedroom property in Grey Lynn, which is $655. But Leela, 35, said the house she has lived in for three years was not a sought-after villa, but instead part of a damp apartment block in an industrial area.
"It's a dump. It's not insulated, we deal with industrial noise and smells, it's mouldy and damp. And one of the apartments next to me is rented for $400. It seems criminal that they can [charge] that much just because there's a housing shortage."
Student Jasmine Ward says she was priced out of her Waterview flat only two and a half months after moving in, because the landlord raised the rent $100. All four tenants are moving out because they cannot afford to stay.
Harcourts property manager Sharon Ryan said the rises were the work of an opportunistic few - often overseas investors - who were disengaged from the rental market.
"If you've got a current tenant and you hike the price up, they can take us to the Tenancy Tribunal. We look at the stability of the rental market, and we prefer to increase $10 or $20 which covers rates or body corp fees."
Landlords are entitled to raise rent every six months, but must give 60 days' notice. Consumer NZ says there is no limit to how much it can go up.
Tenants Protection Association co-ordinator Angela Maynard said landlords had a "worrying" amount of power in the present market and a $150 rent rise was excessive and unusual.
Tenancy Solutions director Nathaniel Hamilton said landlords were not wholly responsible for rent increases, because the market rent reflected what people were willing to pay.
He said many tenants were offering to pay rent above what was advertised to secure a property they were keen on. This practice bumped up the market rent in addition to natural supply and demand, he said.
"Because people are willing to pay a higher amount, it sets the rate for everyone else and the prices keep going up. The market rent will only fall again once supply exceeds demand."