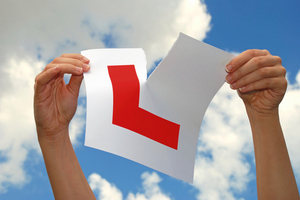 New tougher driving tests have seen a dramatic fall in the pass rate for learner drivers, with just 39 per cent getting the green light, down from 80 per cent.
Nearly 1500 would-be drivers have so far been tested under the new regime, which came into effect two weeks ago.
The New Zealand Transport Agency (NZTA) said the sharp drop in pass rates was expected.
"The new test is much more challenging and a much higher standard of driving is needed to pass, that is the whole point and we make no apologies for that. The new test demands more practice and more preparation, and it will take some time for that message to filter through," NZTA chief executive Geoff Dangerfield said.
"As it does and as more young drivers put in the kind of preparation and practice needed to raise their skills to the level required to pass the new test it's likely that the pass rates will begin to climb."
Mr Dangerfield said the new test had been specifically designed to improve safety by encouraging learner drivers to clock up at least 120 hours of supervised practice before sitting it.
"It's important that we remember what this new test is all about - reducing needless deaths and injuries on our roads, improving the standards of young and novice drivers and encouraging them to take the time to develop their skills and build a solid and a safe foundation before they move on the next stage of our licensing system. We are doing young people no favours with a 'once over lightly' approach."
For the next six weeks NZTA would waive the fee for cancelling or rescheduling tests for drivers who had already booked appointments if they decided they needed more time to prepare.
Road safety campaigner Clive Matthew-Wilson warned that the harder tests would inevitably result a rise in the number of unlicensed drivers.
"It's a mixed blessing because among the poor who generally can't afford practical driving instruction they tend to simply drive without drivers licences. Exactly the same thing happened when they toughened up on the warrant of fitness regulations - it simply meant that more people were driving without a warrant of fitness which is not a good thing.
"I applaud making drivers licences tougher to get but there has to be a taking with one hand and a giving with the other, in other words, drivers licence training needs to be made more widely available, especially for poor people and particularly for Maori, who are 3 times more likely to die on the roads."
NZTA spokesman Andy Knackstedt said this argument didn't hold water because the tougher tests didn't cost more.
Mr Knackstedt pointed to two websites designed specifically to help drivers pass: www.practice.co.nz and www.safeteendriver.co.nz
- APNZ