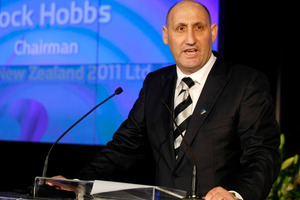 Jock Hobbs sneaked in the side door when it came to the All Blacks, replacing much-respected Graham Mourie as openside flanker in 1983 despite having never featured in any national age-group sides.
In terms of his rugby legacy, he was rarely to be so unobtrusive again.
An All Black captain and chairman of the New Zealand Rugby Union, Hobbs was around during some of the sport's most tumultuous moments, including rebel tours, the switch to professionalism and a World Cup bid that seemed destined to fail.
One word always fitted perfectly alongside his name - leader.
Hobbs was a grafter on the field. A good flanker who was denied the chance to take part in the first World Cup, hosted here in 1987, after a series of concussions forced him out of the game. It was appropriate, then, that he should play such a pivotal role in bringing the tournament back here.
Rugby is a vastly different commodity now than it was in 1987.
It might have looked even more different had it not been for the tireless and, as it turned out, thankless work Hobbs put in.
The day before the 1995 World Cup final, professionalism was ushered in with the birth of Sanzar. It trumpeted the Super 12 and Tri-Nations, all backed by News Corp's US$555m 10-year television rights deal.
Just one problem: they didn't have any players signed.
The formation of Sanzar instead emboldened players. They knew just how much the game was worth. The rebel World Rugby Corporation, led by Ross Turnbull, was telling them just how much they - as individuals - were worth. Most had soon signed letters of intent with the WRC.
Hobbs, a lawyer by trade and recently elected to the NZRU council, was pressed into action.
He realised that senior players, with a narrow window of earning opportunity, would find it hard to turn down the inflated sums offered by the WRC. So he targeted the future - brilliant young players like Josh Kronfeld and Jeff Wilson.
Hobbs and the NZRU won out. His reward was to be culled from a revamped board the following year.
As his profile on the New Zealand Rugby Museum website so pointedly states: "It seemed ... to have been gross ingratitude and a woeful waste of an informed rugby mind."
After the debacle of the loss of the World Cup co-hosting rights for 2003, Hobbs was back, this time as chairman, and he would help deliver underdog New Zealand the greatest reward - the opportunity to host the world in 2011.
Those who remain untouched by the intricacies and intrigues of rugby politics, too young to remember him as a player, might remember him only for the touching presentation of Richie McCaw's 100th test cap during that momentous tournament.
There was a genuinely moved McCaw, the prince of flankers, representing the present.
There was Hobbs, a former flanker who now, sadly, represents the past.