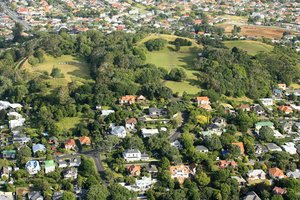 The housing market is showing lifts in sales numbers and prices, now only slightly below the peak of the heady days of 2007, with the Auckland city area showing huge gains.
Two sets of figures were issued yesterday showing the market was not in the doldrums.
The Real Estate Institute reported 6168 unconditional sales last month, up 36 per cent on last February.
But the national average median house price has remained frozen for the past three months on $355,000.
QV reported a 2.9 per cent price rise in the past year so prices nationally are only 2.9 per cent below the previous peak of late 2007.
Auckland City prices rose $41,500 in a month, REINZ's figures showed, and QV's Glenda Whitehead said Ponsonby, Grey Lynn and Sandringham were areas in strong demand.
Barfoot & Thompson's Peter Thompson said the number of homes sold in Auckland last month was the highest for a February in five years.
"The market segment where the most noticeable change took place was in $1 million-plus housing."
Australasian real estate chain Ray White said February was the first month in which it could gain confidence in interpreting the market, and its $2 billion baseline target was comfortably reached.
" Remarkably strong results in Auckland broadened our entire confidence," the realtors said.
"In the 25 years the group has been active in New Zealand, we have long regarded the New Zealand market as the litmus test for what is likely to happen in Australia in six months' time."
Westpac's Dominick Stephens and Michael Gordon said all the trends were up.
"Nationwide house sales rose 6.2 per cent in February after a broadly flat month in January. Auckland, Waikato and Canterbury continued to trend higher, each region racking up around a 4 per cent monthly rise in sales. There were also sharp gains in some of the smaller regions - Taranaki, Marlborough and Southland - albeit following unusually weak sales in January." the economists said.
ASB's Jane Turner said the market was performing particularly strongly.
"February housing market data confirm the continued gradual recovery in demand. This pick-up is also consistent with some of the robust strength apparent in the underlying trend of retail spending."
Helen O'Sullivan of REINZ said most of the focus was on Auckland but many provincial markets showed stronger year-over-year sales volume and price growth.
Canterbury/Westland's improvement was remarkable given the complexity of a sale transaction in a post-quake environment.