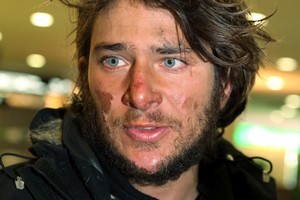 Some $9000 of taxpayer funds have been spent on the search for a controversial Norwegian explorer who set sail from New Zealand on an unauthorised expedition to Antarctica.
Customs launched a search for the 16m yacht Nilaya in late January after Norwegian authorities informed officials that Jarle Andhoey was thought to be planning the illegal trip.
The self-proclaimed Viking planned to retrace the steps of a previous polar expedition that made headlines last year when three support crew members died.
The Customs search in January involved a vessel in Auckland harbour and a fixed-wing plane searching the ocean around New Zealand.
Figures released to APNZ under the Official Information Act today show Customs spent about $9000 on the search for the Nilaya.
A statement from Customs said most of the cost was aircraft fuel.
"As part of its border protection work Customs will occasionally undertake aerial patrols to identify vessels of interest within New Zealand's economic zone. An allocation for this type of surveillance is budgeted for on an annual basis.''
The Nilaya was last sighted by officials in late January, when the plane circled the vessel and made numerous attempts to hail it.
There was no response, and there were no further sightings.
At the time of the sighting the Nilaya was in international waters.
A decision on whether Andhoey would be prosecuted or costs sought could not be made until he returned to New Zealand and officials had spoken with him, a Customs spokeswoman said.
That outcome seems unlikely, with Norwegian media last month reporting Andhoey had abandoned his polar trip and was heading for South America.
Andhoey and his crew believed they would face prosecution if they returned to New Zealand for sailing into Antarctic waters without the proper authorisation.
It was not known whether a New Zealander on board the Nilaya, Busby Noble, would travel to South America or try to return to New Zealand.

- APNZ