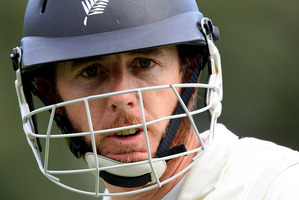 New Zealand's cricketers have been gagged as the ICC investigates claims of involvement in match-fixing - but one former player isn't holding back.
Yesterday, former Black Cap Iain O'Brien called for a newspaper sting, similar to the News of the World one that caught Pakistan Salman Butt, Mohammad Asif and Mohammad Amir taking money for spot fixing in 2010.
"Until there is a NoTW type sting, we can't really do much about it. Until there are names and events printed... It's all just chatter!" he wrote on Twitter.
"If I find out ANYONE I've EVER played with is involved, it'll ruin everything I've stood for in cricket. They'll have ruined cricket," he wrote. "You know why this ****s me off so much? My body is ****ed. I gave this game everything I could.
"For some prick to 'not' have kills me."
O'Brien told nzherald.co.nz that while he has seen "weird cricket being played at times by people" in international and domestic cricket in England, India and Australia, he has never witnessed an incident he was certain was match fixing.
"If I had suspected something that would have been something I would have voiced."
The Wellingtonian said he had never been approached, but said it would be naive to suggest no New Zealanders have ever been involved in match fixing.
But New Zealand Cricket yesterday responded angrily to the allegations made in Britain's Sunday Times and a TAB spokesman said there had never been the "smallest blip" of suspicion in games involving New Zealand, based on bets placed here.
"We have complete confidence that the claims made are baseless and have no credibility," said NZC chief executive David White
"The sources are not credible and the accusations are unsubstantiated, making them irresponsible, damaging and untrue. The integrity and reputation of the game is paramount and NZC have absolute confidence that our players share these ideals."
Herald requests to speak to senior players were rebuffed.
"As the matter is now with the International Cricket Council, they have a process to go through," an NZC spokesman said.
"We can't compromise that process by making public comment."
Undercover reporters for the Sunday Times, posing as bookmakers, were told by some of India's most influential bookmakers that match-fixing was rife.
Players for all the main cricketing nations took part, the bookmakers alleged, and New Zealanders were currently being offered to bookmakers to help fix matches.
One bookmaker claimed to have fixed matches with two New Zealand players - who he named - in 2010. The newspaper did not publish the names.
Players' Association boss Heath Mills said he spoke to several of the players yesterday.
"They're disappointed that these sorts of allegations have been made," he said. "They're philosophical because these things happen, unfortunately, but no one has expressed any concern to me that they've seen or heard anything within the New Zealand set-up that has given them pause for thought."
Mills said that at least twice a year the players were involved in seminars with staff from the ICC's anti-corruption unit, so were aware of the process they had to go through when approached by people they might suspect to be involved in illegal bookmaking.
Last year, former internationals Daryl Tuffey and Scott Styris, plus limited overs international Nathan McCullum, grew uncomfortable while dining with a Middle Eastern diamond dealer in Hong Kong, and reported the meeting to team management.
That information was subsequently passed on to anti-corruption officials.
TAB spokesman Mark Stafford said his organisation had never encountered any bet on cricket that made them think their agency had been used for illegal purposes.
"We've become very sensitive in our monitoring of it, but there has not been even the smallest blip on the radar," Stafford said.
He said the TAB's systems were robust and "all the allegations are around illegal bookies".
Meanwhile the International Cricket Council has dismissed a claim by The Sunday Times it is investigating the semi final between India and Pakistan at last year's Cricket World Cup.
ICC chief executive Haroon Lorgat said the claim is "baseless and misleading".
"The ICC has no reason or evidence to require an investigation into this match," Mr Lorgat said.
"It is indeed sad for spurious claims to be made which only serve to cause doubt on the semi-final of one of the most successful ICC Cricket World Cups ever."