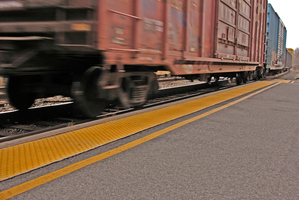 Child, Youth and Family (CYF) is investigating how four children came to be fishing off a railway bridge, resulting in a 4-year-old girl being hit by a train.
CYF staff have been called in to speak to the parents of two sisters, aged 4 and 11, who were nearly killed in the train incident in Christchurch yesterday.
The girls and two friends, aged 9 and 10, were fishing unsupervised off the bridge, which crosses a small stream running through popular beauty spot Grimseys Reserve in Northwood, about 3.50pm.
Two girls managed to scramble down a grass bank to safety, but the two sisters were left behind.
The elder had to leap 7m to avoid the train and her sister was hit by the right front of its cattle shunt and thrown from the tracks.
Both sisters suffered multiple injuries and were rushed to Christchurch Hospital. This morning, they were in serious but stable condition and were expected to make a full recovery.
Police said only the quick actions of the train driver and "a significant amount of luck" prevented a tragedy.
A spokesman for Christchurch police said: "Police staff who attended the scene spoke to the parents on the day. They have not been formally interviewed at this stage, but the file will be reviewed later in the week, to see if any investigations will follow."
In the meantime, CYF is speaking to police and all of the families involved.
CYF southern regional director Kelly Anderson said: "Child, Youth and Family has begun an investigation into this case and is assessing the safety of the children involved.
"We need to establish why these children were left unsupervised in such a dangerous place.
"It is clearly extremely unsafe for any child to be fishing off a rail bridge.
"It is very early days and we are working with the police and the families to establish all the facts.
"CYF's decision to investigate cases where children or young people are left unsupervised will depend on the circumstances of each case.
"In New Zealand it is against the law to leave children under 14 without making reasonable provision for their care and supervision. What is considered `reasonable' also takes into account the circumstances under which children are left alone and the length of time they are alone.
"Parents are required to assess all the circumstances and make sure that any child left alone is safe and in no danger."
KiwiRail said company services were helping the driver of the train.
A spokeswoman for KiwiRail confirmed that they would be carrying out an investigation of the site.
KiwiRail chief executive Jim Quinn said: "Our thoughts are with the children, their families and our driver. We are pleading with the public to stay off the rail corridor. Our trains cannot swerve or stop quickly and they can appear at any time of the day or night. Don't take a chance, please just stay away from the rail lines."
Former All Black Bill Bush said he wanted "prison wire" fencing around the railway bridge.
Bush, also a former city councillor, lived next door to the bridge until he moved two streets away last month.
He said he "froze" when his wife texted him as he was watching a pre-season rugby match at Tai Tapu to say four girls had been struck by a train.
"I feared the worst. I lived beside that bridge for eight years and was forever screaming at kids to get off the track. They used to go up there and muck around, throw stones at trains.
"If I had been there yesterday I would've been able to yell at them and get them down.
Bush, who has campaigned to deny public access to the tracks and the bridge, said people used it as a shortcut to the nearby Northwood Supa Centre shopping area.
"Taking a shortcut across the bridge takes five minutes _ if you take the long way, it takes 45 minutes. Kids will be kids and they just walk up the bank, around the fence, and onto the tracks," said Bush.
When Bush moved in beside the bridge in 2004, he was on the city council and campaigned successfully to get a fence put up.
"It wasn't enough. A neighbour of mine tried to cross shortly after that and got killed. He got badly mutilated _ cut in half _ and after that they put up the big fence that is there now."
But he said that wasn't enough: "They need barbed wire like prisons have otherwise someone will be killed."
- APNZ