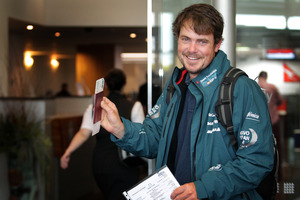 Within two hours of arriving in Auckland, a round-the-world race sailor was last night on a mad-dash flight back to Europe to meet his new baby girl.
Joao "Joca" Signorini, a watch captain on the Spanish Telefonica team in the Volvo Ocean Race, was whisked from the Viaduct Harbour to the airport with a very quick shower stop yesterday after 20 gruelling days at sea.
Two weeks ago his wife gave birth to their first child, a girl, in Sweden.
With Telefonica and its competitors due to leave Auckland for the next leg of the race on Sunday, Mr Signorini, 34, made a mad dash to Auckland International Airport to catch the earliest possible flight.
"It was a bit of a movie action," he told the Herald after managing to check in less than an hour before his flight left for Hong Kong.
"I'm really looking forward to getting home and seeing the little one," he said.
"I saw some pictures of her, and she's very, very cute. [Like] her mum."
Whisked off Telefonica before it docked, Mr Signorini was driven to the airport, where the duty manager and Cathay Pacific staff were waiting to rush him through check-in.
But he still made time to stop at the team's hotel for a shower - deemed essential for his fellow passengers after 20 days at sea without one.
"It felt good," he said, smiling.
After 24 hours of flights and stopovers Mr Signorini will be able to spend about three days with his wife and daughter before flying back to Auckland.
The 2012 Volvo Ocean Race started in Alicante, Spain, on October 29 and after nine legs will finish in Galway, Ireland, in July.
Yesterday Telefonica held off New Zealand's Team Camper by just 32 seconds for third place in the 9667km leg, and Mr Signorini said the journey had been particularly trying.
"We have four hours on, four hours off. Normally we can rest a bit during our four hours off.
"But this leg was quite tough ... a lot of manoeuvring, changing position."
He was on watch at the helm when his baby was born but found out only two hours later when he called his wife by satellite phone.
"It was very nice, because actually I did not know ... I was very glad to be speaking to her, she was feeling good ... so that was my main concern, that everything went well."
Crew marked the occasion with a few puffs on a Cuban cigar taken on board in anticipation of the news, and in lieu of a name refer to their teammate's daughter as "Mini".
"I'm going home to see what she looks like, and then we're going to decide," Mr Signorini said.
Mr Signorini, a Brazilian, has flown to Stockholm to see his Swedish wife at each stopover.
He had hoped she would give birth last time he was home during the break in Sanya, China.
"It was very hard [to leave] last time because maybe if we would be lucky and the little one would come a little bit earlier I would be there.
"And then we knew for sure it would happen during this leg, so it's okay. The important thing is that they are good and healthy."
The Auckland stopover is the first in a decade for the round-the-world yacht race and a variety of events and activities will be taking place at the Viaduct until Sunday.
Thousands are expected to farewell the boats which will sail for Itajai, Brazil, in a leg considered the race's toughest.