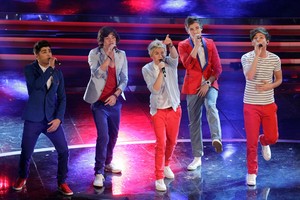 Sold-out tickets to boy band One Direction's concerts are selling in online auctions for more than four times their face value.
But some Trade Me users are fighting back against the large profits and are sabotaging the auctions by placing large, "silly" bids with no intention of paying.
One mother of a disappointed 12-year-old girl who missed out on a ticket has questioned whether it's fair that reselling Rugby World Cup tickets was illegal but reselling One Direction tickets is not.
The $92 tickets for the three April shows in Auckland and Wellington sold out in minutes but within hours some had been listed on Trade Me. The bids have sky-rocketed as more tickets were listed. Last night there were almost 40 listings, with pairs of tickets costing as much as $735.
Some Trade Me users, angry at people making such a large profit from tickets for a tween concert, have been hijacking auctions.
One man who made a "rather large" sabotaging bid on one auction said he placed it intending it to be a bid no one would top.
"I would win the auction and then refuse to communicate or complete the trade, leaving the scalper holding a ticket and out of pocket for the [money] they initially paid," he told the Herald.
But it didn't go as planned because there were many others also trying to ruin the auctions and his bid was topped. The man said he was sent an email from Trade Me warning that he would be banned from the site if the fake bids continued.
"The reason I did this was I don't believe the line the scalpers use, that it's just supply and demand in action. It's more than that because the scalpers are manipulating supply by purchasing tickets with no intention of using them, thereby creating a shortage.
"Society wouldn't put up with it if it were fuel or milk, so why event tickets?"
He said it wasn't right that Trade Me allowed the One Direction tickets to be sold.
Trade Me spokesman Paul Ford confirmed there had been some "silly bids from people being attention-seekers" which would normally see them blacklisted by the seller.
"If it's reported to us we'll also take a dim view of this sort of annoying shenanigans," Mr Ford said.
In the last week, 224 auctions for One Direction tickets have been listed on Trade Me. The One Direction concerts weren't one of the Ministry of Economic Development's events under the Major Events Management Act so it was legal to on-sell tickets, Mr Ford said.