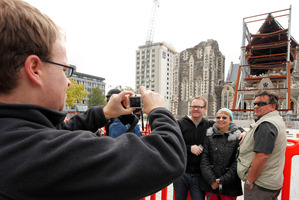 Christchurch's Cathedral Square was partly opened to the public yesterday and locals turned out in support of saving the landmark.
The cathedral was condemned to be "deconstructed" down to 2m to 3m by Bishop Victoria Matthews on March 2.
David Johnson, 46, is the great-great-great grandson of the first Bishop of the Cathedral, Bishop Harper.
"It was the first time I'd been in to see it [after the earthquakes]. I was really saddened, it was tragic. But it was ... I felt like I wanted to see it."
Johnson took his 12-year-old son Joshua with him. "We'd talked about it before he went in, whether he wanted to. He was pretty sad too." Rachael Burns, 45, was in Cathedral Square with her children Matt, 13, and Annabelle, 12.
"I believe it does need to come down, but it's sad for the community," she said.
Christchurch city councillor Aaron Keown was encouraging people to tie ribbons to the building over the next few weeks in support of saving it. Keown said there had been a backlash against the decision.
"It's not been as big as I'd expect, but I believe that's because people have been duped into believing it's not saveable when it is."
He said the only chance of saving the cathedral would come from an "open and honest debate".
"But I can understand why the church want to get rid of it, it's a financial liability."
Christchurch Mayor Bob Parker was not aware of any protests planned.
"There's a mixture of feelings, a cross-section of views. There are those that feel passionate, some feel it's time to move on."
Parker said deconstruction was inevitable.
"The biggest issue is what is going to be there in the future. I think whatever happens on the site, there needs to be an inspirational building."
John Bullen, 62, came from Rangiora to see the cathedral with his family and said: "I think people were just coming to say goodbye." APNZ