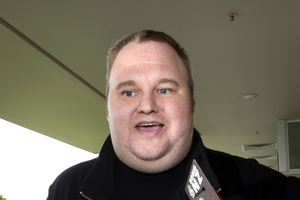 German millionaire Kim Dotcom's application to buy three tracts of sensitive land was initially approved by Land Information Minister Maurice Williamson - but then overturned by his higher-ranked colleague Simon Power.
Under the Overseas Investment Office legislation, applications by foreigners to buy sensitive land have to be approved by the office, and then signed off by two ministers.
Documents show that Mr Williamson agreed with the OIO in approving Dotcom's applications to buy about 45ha in Coatesville, just north of urban Auckland, and Doubtless Bay, Northland, in April 2011.
But Mr Power, then Associate Finance Minister, decided to take further advice. In July, he declined the applications on the grounds that Dotcom was not of sufficiently good character.
A week later, a handwritten note from Mr Williamson reveals that he had changed his mind.
"After consultation and further discussion I support the decision to decline the application for Mr Dotcom," the note says.
Mr Power wrote in his decision document that he considered the matter carefully.
"I would have to be satisfied that his character is of such value or merit that I could reasonably commend it to others. The offending and convictions by Mr Dotcom are clearly relevant factors.
"By their repetition, and the fact that they are essentially 'dishonesty' offences, I consider that the pattern of this behaviour goes to the character of Mr Dotcom."
He did not think that the clean-slate legislation in Germany meant that Dotcom's convictions in 2003 were irrelevant.
"Contrary to the view of the OIO, I do not consider that, in this case, the period that has elapsed since the offending in Germany has diminished the significance of this offending as it relates to Mr Dotcom's character today."
The documents, released to 3News under the Official Information Act, also reveal that Dotcom's application to the OIO included claims that his love of food was evidence of his financial commitment to New Zealand, because he was "purchasing all bakery/meats and other food items from the local area ... some of such quality that some are now being exported for his enjoyment in Hong Kong".
Dotcom, the founder of megaupload.com, was granted residency in November 2010, for which he had to invest $10 million in government bonds and pass a good character test.
The Immigration Minister at the time, Jonathan Coleman, was given an opportunity to object, but chose not to.
One month later, Dotcom was convicted of eight share-trading offences in Hong Kong and fined HK$8000 ($1250) - but Immigration NZ considered the convictions minor and stood by its decision.
The 38-year-old faces multiple charges of copyright infringement, internet piracy and wire fraud. He is on bail in Auckland while American authorities seek to extradite him.
Yes and no
Nov 2010: Kim Dotcom granted residency under the Investor Plus category, for which he must invest $10 million and pass a character test. Immigration Minister Jonathan Coleman has an opportunity to object, but does not.
Dec 2010: Dotcom convicted of eight share-trading offences in Hong Kong.
April 2011: Overseas Investment Office approves Dotcom's applications to buy about 45ha of sensitive land. Land Information Minister Maurice Williamson approves.
July 2011: Associate Finance Minister Simon Power declines application. Williamson changes his mind and agrees with Power.