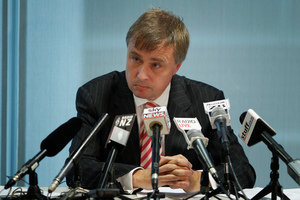 Labour has released another confidential cable, this time from New Zealand ambassador to Japan Ian Kennedy, highly critical of the proposed restructuring of the Ministry of Foreign Affairs and Trade (MFAT).
It is the latest of an embarrassing series of leaks to Labour, which have included criticisms from the High Commissioner to Singapore and the Ambassador to Argentina.
Labour's Phil Goff also claimed on Thursday that MFAT chief executive John Allen had instructed ambassadors this week not to put their criticisms in cables.
The restructuring would lead to job losses of up to 300 positions, many of them administrative staff seconded to overseas postings, a reduction in some overseas allowances, and the end of a diplomatic appointment system based on seniority over merit.
Labour leader David Shearer says the fact that the cables are still being leaked, despite an edict trying to stop them being sent "indicates just how deep the concerns are among our most experienced diplomats."
Mr Kennedy's cable suggests that new Ministry Business Model (MBM) would result in off-shore positions becoming ''poor cousins" to on-shore positions in Wellington.
"That seems a very dangerous proposition to me, particularly for a Foreign Ministry that looks to its staff off-shore to represent and advocate for New Zealand.
"We have a strongly committed team in Tokyo well qualified to raise New Zealand's profile in Japan.
"As I see it, the hard yards that have been gained in recent years will be put at risk by this proposed change in direction."
He says to get the maximum return on investment in language training, the ministry has encourage Japanese speakers to do two or three postings to Tokyo.
"That is not going to happen if off-shore positions are downgraded relative to positions at home (and if a reduction in allowances makes living in Tokyo prohibitively expesnive, particularly for staff with families."
He also argues against a plan to drop a chauffeur from the ministry saying that having a driver allows staff to work in the car to and from appointments, that public transport is not a realistic proposition especially in the summer heat, and that expenditure on taxis would be driven up.
The cable says he has made a separate case on the need to retain a chef-manager at the official residence and would comment separately on the maintenance officer, the housekeeper and office cleaning positions.
Mr Kennedy said he shared the same concerns of the Singapore High Commissioner.
Mr Kennedy asks to know which organisations had used the model being proposed in the restructuring and in what ways it had been successful to their business practice.
"My concern is that it would have the opposite effect for MFAT and be very damaging to the advancement of New Zealand's foreign policy and trade objectives.
"In Japan personal connections are paramount to achieve access to key decision makers. Relationships of trust take time to develop."
Mr Kennedy's posting ends in June this year.