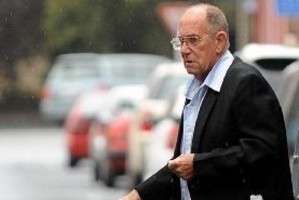 A terminally ill Roxburgh man who shot his wife of 43 years because she was leaving him for another man has been sentenced to life imprisonment.
Warren Johnston shot 60-year-old Lesley Ann Johnston on March 11 as she was running from their house after a confrontation about her leaving him for another man.
Johnston (67) had been diagnosed with terminal lung cancer a short time before the killing and the couple's daughter had herself died of cancer only two years earlier.
In a suicide note to his son, Johnston said what happened would have been avoided if his wife had decided to stay rather than leaving him. He said if she would not look after him for the last months of his life, if he could not have her, then neither could her new partner.
At sentencing in the High Court in Dunedin today, Justice Clifford said he accepted a minimum term of 10 years' imprisonment was probably academic, given Johnston's terminal cancer and his other health difficulties.
But he agreed with the Crown the circumstances of the case were not sufficient to take it into the category where something less than a 10-year-minimum would be appropriate.
He told members of Johnston's family and others in the court that no sentence for murder could cure the sadness and suffering a murder brought. Neither could it bring a sense of peace for those grieving.