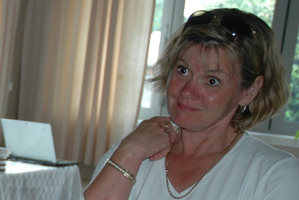 The former United States Marine who brutally killed New Zealand-born nurse Michelle Beets on the doorstep of her Sydney home today faces the prospect of dying behind bars.
Walter Ciaran Marsh, 51, was convicted last November of employing a military technique in a revenge killing when he slashed his former boss's throat and stabbed her repeatedly in the chest.
Today he will sentenced, in front of relatives who have travelled to Sydney from Auckland, for what prosecutor Mark Tedeschi, QC described as "most horrific, violent and terrifying death".
Evidence presented during Marsh's six-and-a-half week trial described a chilling, brutal tale of a dedicated and popular nurse murdered because her killer believed she stood between him, a new job, and a continued life in Australia.
Ms Beets had lived in Sydney for 20 years, working as a nursing unit manager at Royal North Shore Hospital and living in Chatswood with her partner David Grant.
Long-time friend Anne-Maria Nicholson, an ABC reporter who knew Ms Beets in London before she moved to Australia, told the network that the "passionate" nurse was one of the funniest, most generous people she had met.
For most of the two decades in Sydney she had spent Christmas with Ms Nicholson's extended family, each year making a huge ice-cream cake and giving each of the many children a gift.
"At her home she had a gift-wrapping station," Ms Nicholson said.
"She was always giving people presents. When nurses had a child, a christening, a wedding, if someone died, she was there with a gift, a card.
"She was always, always giving.
"She stood for excellence, but with kindness and generosity....a manager, a front-line nurse, but more than that she was a sister, a friend, a partner."
To Marsh she was a "bitch" who had stood in his way.
The court was told he had previously planned to kill his ex-wife but his target became Ms Beets after he failed to find a job following the termination of his contract at Royal North Shore in February 2010. He believed Ms Beets was blocking his chances.
Marsh decided to kill his former boss to prevent any further bad references, fearing that if he could not find work he and his wife, Samantha, would lose their visas and have to leave Australia.
Mrs Marsh, a Vietnamese, was not able to obtain a US visa, and Marsh himself was at risk of not getting a new American passport because he owed his first wife up to US$50,000 (NZ$61470) in child support.
Marsh practised a Marine technique for silently slitting an enemy's throat on his wife Samantha and brother-in-law Gabriel Le, honed his knife's blade, and reconnoitered Ms Beets' home, recording her movements.
On the evening of April 27 2010 Marsh cut her outside lights, broke a pane of glass to give the impression of a bungled burglary and waited on the verandah to strike.
Neighbours Gordon and Carmel Bevan, out walking their dog, heard screams and a "slapping noise". They called out, and saw a hooded man with a small red backpack running away.
Mr Bevan found Ms Beets bleeding and held her in his arms as she tried to speak: "We made eye contact, then I believe she died."
After the killing Marsh met his wife and told her - without naming Ms Beets - that "I did it. The bitch is dead. No more bad references."
CCTV cameras later filmed him dumping the murder clothes at a Chatswood shopping centre, and Marsh told a bizarre story of belonging to a secret Irish organisation called "the service" which had given him permission to kill "a certain someone".
In a conversation recorded by police, Marsh also told a group of Mormons that "the service" intended to frame him for Ms Beets' murder because he was dying of cancer and the group had promised a payout for his wife if took the rap.
After three-and-a-half days, the jury found Marsh guilty.
In his sentencing submission last month Mr Tedeschi said Marsh had carefully planned the murder, specially sharpened the knife in advance, staked out Ms Beets' home, and disposed of the clothes afterward.
He said the killing was a "cold, calculated decision to enhance (Marsh's) employment prospects", he had since shown "not the slightest skerrick of remorse or contrition", and was a danger to those who come in contact with him.
This placed the crime in the worst category of murder, attracting a life sentence, Mr Tedeschi told Justice Derek Price in the New South Wales Supreme Court.
NSW sentencing laws say that worst-category life sentences should be imposed if the court considers the crime so extreme that public interests demand both punishment and community protection.
This includes cold-blooded killings with a financial motive, and premeditated, planned murders.
Since 1990 life imprisonment in NSW means jail for the term of a prisoner's natural life, with release only possible through the exercise of the Royal prerogative, in which the State Governor can issue pardons or remissions on the advice of the Attorney-General.
Killers convicted of murder but not sentenced to life serve an average of about 14 years in the state's jails.
A memorial trust fund has been set up in Ms Beets' name to help and educate nurses working in Royal North Shore's emergency department.