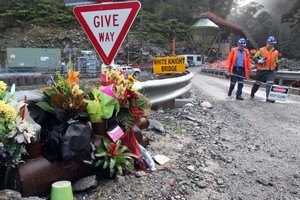 Nine staff involved in the recovery of the bodies of 29 men killed in the Pike River Coal Mine disaster, including the father of one of the victims, have been laid off.
Receiver John Fisk said a decreased workload at this stage of the recovery process was the main reason for the redundancies.
A spokesman for the families of the men who died, Bernie Monk, said the job losses did not come as a surprise and he didn't think they would detract from the effort to find the bodies.
"I'm sad that people are losing their job but on the other hand I don't think we've got much choice because I don't think the receivers have got much money to do the job that they have to do,'' he said.
"They'll probably bring experts in from Australia to do the job so it'll mean that there will be nothing more that those blokes can do.''
Grey District Mayor Tony Kookshoorn said the receivers had indicated there would be job losses some three months ago.
"It was always an indication by the receivers that this was what they were doing and this is happening according to what their plan is.''
Mr Palmer said it was very hard to leave.
"I feel like the job hasn't been completed.''
However, he said it would be a bit of a break and he was already speaking to people about work in Australia.
Mr Kookshoorn said Mr Palmer had done everything he could to help the recovery process.
"He's done a spectacular job and I would say Martin will find it hard to be away from the mine now because he's so close to his son. It's unfortunate but that's the way the receivers decided to go. But certainly he's a dedicated dad and he's prepared to do anything, and I'd say he will still do anything to help the recovery.''
Before the disaster in November 2010 the newly developed mine employed 157 staff.
- APNZ