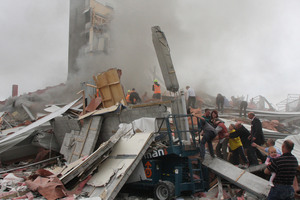 The Chief Coroner, Judge Neil MacLean, has today moved to reassure the bereaved families of Canterbury earthquake victims that any remaining questions surrounding the deaths will be addressed when the coronial inquest resumes.
The move follows yesterday's decision by Canterbury Earthquakes Royal Commission of Inquiry not to investigate the actions of search and rescuers following the February 22 earthquake investigated.
The commission was asked to widen its terms of reference by the husband of Dr Tamara Cvetanova, who died in the CTV Building collapse, which claimed 115 lives.
She survived the initial collapse of the CTV building and was trapped alive in a gap with four Filipina women.
Despite making emergency calls from a cellphone for more than four hours, none of the women were rescued. They are believed to have died sometime after 1am when the space they were trapped in collapsed.
Srecko Cvetanov's submission for a public inquiry into his wife's death was rejected by commission chairman Justice Mark Cooper, who said the terms of reference did not allow commission to probe the rescue effort.
But today, the chief coroner confirmed that the coronial inquest, which will be held at the conclusion of the Royal Commission of Inquiry, was the proper forum for such investigations.
Judge MacLean said: "Coroners are independent judicial officers and have ample powers to request any relevant reports to be presented and to summon any witnesses to attend an Inquest as required.
"If necessary there is also the ability to appoint a specialist adviser and or counsel to assist the coroner.
"These powers are set out in the Coroners Act, are wide-ranging and not subject to any terms of reference.
"Already a number of cases have been heard and had findings completed but we know that for some families there are issues that haven't been covered to date.
"The sitting coroner (Coroner Gordon Matenga) will decide on the most appropriate actions required to address any of these remaining issues, including the response of emergency services.''
A date for the resumption of the inquest is expected to be set following the conclusion of the Royal Commission of Inquiry.
Justice Cooper said his decision would clear the way for the coroner to proceed with their own inquiry.
- APNZ