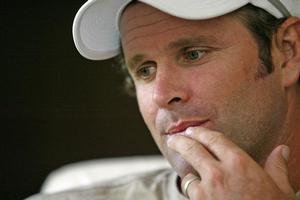 Chris Cairns' wife has said asking her husband if he had been involved in match fixing was "the most horrible question I have ever had to ask".
Mel Croser gave evidence on the third day of a libel trial at the High Court in London, where the former New Zealand cricketer is suing former Indian Premier League commissioner Lalit Modi for accusing him, via Twitter, of match fixing.
Modi alleged in January 2010 that Cairns was involved in match fixing in the 2008 season of the rebel Indian Cricket League (ICL), while captain of the Chandigarh Lions.
Earlier this week Cairns denied the accusations, stating he "was not a cheat" and had not offered teammates money to cheat. He said Modi's accusation had turned his reputation to "dust".
Overnight, his wife described to court the moment she asked her husband if the rumours were true, which she said was "the most horrible question I have ever had to ask", Cricinfo reported.
He had replied "absolutely not", she said, and was teary-eyed when Modi's counsel Roger Thwaites QC asked whether she believed him.
"When something is said, over and over, accusing the man that you love of something ... Of course I want to believe him and I do believe him," she told the court.
Cairns' ICL career ended when he was effectively suspended for not declaring an ankle injury, exacerbated by a 1000km charity walk he did in memory of his late sister.
However Thwaites claimed Cairns' ankle injury was a "cover up" by Cairns and the ICL to mask a match fixing investigation.
Former Black Cap and teammate Daryl Tuffey also came to the defence of Cairns in court today, labelling him a man of integrity and honesty.
Tuffey, 33, who has called Cairns a teammate in New Zealand and in the ICL where both men played for the Chandigarh Lions, submitted a statement which was read to the court.
"I had no reason to believe any of my teammates were involved in match fixing ... I refer to match fixing and also spot fixing," Tuffey wrote of his Lions colleagues in his statement dated May 2011.
The Auckland player said he was "completely shocked" to hear details of Modi's Twitter message about Cairns.
"To state that a professional cricketer is a cheat ... it goes to the core of a player's integrity and honesty," Tuffey wrote.
"I have no doubt as to Chris's honesty and integrity."
Cairns' advisor Andrew Fitch-Holland was also called as a witness overnight.
After his dismissal from the ICL, Cairns became aware of online rumours his departure was connected to match fixing.
Mr Fitch-Holland told his client he "did not think it was a good idea to call out the big guns" against those making the claim, as it would have been "a disproportionate response to low-level, unspecified tittle-tattle", Cricinfo reported.
However he said there was a "massive difference" between fan websites making the claim online and the head of the IPL accusing Cairns of cheating in a tweet.
- With AAP