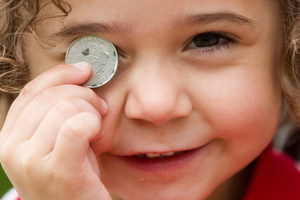 Toddler Daisy Radley thought it looked like an interesting coin - so she ate it.
Last night, the 3-year-old was back at her North Shore home with a clean bill of health, but only after giving her parents a scare.
Daisy was playing with some coins when she let out a little cry and told her mum, Natalie Radley, "I swallowed the money".
"It was a bit of a worry but luckily her grandma, who's a paediatric nurse, is here from England so she knew the best thing to do, which was to keep her calm so she didn't get frantic and choke on it."
North Shore Hospital x-rays showed that the coin - either a 20c or 50c piece - had gone into her stomach and was nowhere near her airways.
"It could have been bad," Mrs Radley said. "Being that size, it could have completely blocked her airway, so we were very lucky."
Doctors had said the coin would not cause Daisy any problems and would come out naturally.
Mrs Radley said Daisy was a curious child and had found the coin "very interesting".
"She is very adventurous and fearless about everything."
The clinical director of the Starship emergency department in Auckland, Dr Michael Shepherd, said about two children a week came into the hospital after swallowing objects.
The most common were coins, but toddlers had swallowed everything from small toys to engagement rings.
The most concerning items were button batteries, which quickly corroded in the body and could cause serious problems.
Another big concern was children swallowing more than one magnet, as these could stick together in the gastrointestinal system and cause damage.
"Children explore their environment by using their mouths; they're interested in how things taste and how they feel," Dr Shepherd said.
"The message I'd like to get out is that kids will swallow anything so - especially in that toddler age group - it's important to try to keep small objects clear of them.
"If they end up in their airway, it can cause big problems."
- APNZ