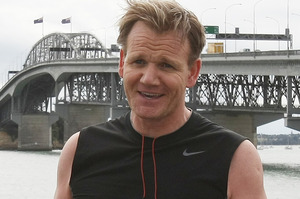 According to Gordon Ramsay, young Christopher Taylor shouldn't get a girlfriend because they steal all your recipes.
The celebrity chef shared his words of wisdom with the 15-year-old during an appearance to promote his range of crockery and cookery wares at Smith and Caughey's in Auckland yesterday.
In between signing posters, crockery and knives, Ramsay doled out advice to those who had waited to meet him.
As well as warning about women stealing recipes, he also told Christopher, who got a cup signed, not to be afraid to send back his school lunches.
Ben Kirk, 18, skipped university yesterday and waited more than seven hours to be the first in the queue.
After getting his limited poster signed, a grinning Ben was ecstatic he got to meet his favourite chef whose cookbooks helped him learn to cook.
"He told me I was 'epically awesome' to have waited in line for so long - it was awesome," Ben said.
Earlier in the day, the celebrity chef was spotted in good spirits on a lunchtime run under the Harbour Bridge and around Westhaven Marina.
Ramsay went for his run just hours after he and New Zealand promoter Duco Events had settled their dispute out of court.
Duco Events had threatened to sue Ramsay for more than $2 million after he cancelled appearances at sold-out charity events which were supposed to raise money for an organ transplant for Napier schoolgirl Matisse Reid.
In a joint statement, both Ramsay and Duco Events announced they had resolved their dispute.
"The parties have reached a mutually agreeable financial settlement, including a donation of $100,000 to Matisse Reid and the trust Chance2Eat.
"Further, Duco Events and Gordon Ramsay are committed to working together in 2013, further details to be announced in due course."
Speaking from Pittsburgh, Matisse's mother, Jodee Reid, said the donation was very generous, but unexpected. "We just want it known that we are very grateful to Gordon Ramsay and David Higgins from Duco Events because this is a joint donation from both of them.
"They were very mindful of the situation we are dealing with is life and death ..."
Matisse had her organ transplant last year, but her mother said it was not a cure and the money would be put in a trust for any further treatments.
Ramsay was to take part in three charity dinners in the main centres in June last year, but he postponed the tour until October after his mother suffered a minor heart attack.
He then cancelled the October dates to stay in Britain to sort out business matters, offering a personal donation to the related charitable trust.
Duco Events director David Higgins earlier said the cancellations meant about 1600 tickets had been refunded.
Ramsay had also charged a $100,000 appearance fee.
- Additional reporting APN