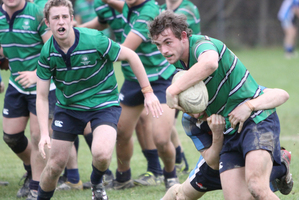 The new bylaw passed by a majority of Auckland Secondary School Principals at a recent meeting, allows groups that administer sport to pass their own rules regarding student transfers and to have them ratified by the College Sport Board.
By passing this bylaw the Principals Association has in effect, supported the 6-week mandatory ban on students who move schools within the 1a or 1b Rugby competition. The rationale for the ban is so that the "even playing field" can be maintained, and that poaching can be discouraged.
The issue of poaching is an absolute red herring as the current bylaws that are in place work very well and there is now a by-law for every aspect of a student transfer. They are robust and work and, most importantly, the ability of a student to play is protected regardless.
With regard to our ability to "maintain a level playing field," I think we need to wake up to the fact that there is no "level" playing field to begin with.
There never has been and there never will be. To try and artificially create one is wrong.
The success of sport at secondary school has little to do with the students at the school and more to do with the programmes set up, the willingness of staff to coach, the environment and culture of the school and, most importantly, the leadership and support of the Principal.
Resourcing is also an issue but, having travelled around the world visiting many "rich" schools and having worked in and observed many different types of New Zealand Schools, it is clear to me that resourcing issues can be overcome by committed communities and smart leadership.
Also there are plenty of examples of financially well-resourced schools that have little idea of how to use their resources to best work for the talent that they have at the school. While not every school can enjoy the riches of the high decile or private schools, this does not mean that they cannot meet the needs of their students.
The fact is that every New Zealand secondary school has sporting talent. It's in our DNA. A visit to the New Zealand Secondary School Athletic championships clearly proves this point as students from all over New Zealand, from all types of schools, win medals. Maybe this also illustrates another point about our schools in that non-school coaches at clubs coach many of these students.
While many schools do a great job with sporting talent, the question must be asked: how much of that talent is neglected or wasted?
The drop off rates among secondary school students is quite pronounced. The boom and bust cycle of certain sports at secondary school highlights one of the key weaknesses, that is, often the success and ability to meet the needs of students in a certain sport is tied to having a key teacher on the staff. When you have them there, the sport takes off and when they leave it dies.
However, although the sport may well disappear, the talent remains - it is just not engaged. Schools that have teachers, leadership and community committed to sustainable programmes that cater for the needs of all of their students do not fit this model. Again, I emphasise that you don't need to be a rich school or a private school to achieve this, you just have to have the willing.
We should not be putting rules in place that hold students back from achieving their aspirations by choice. Zoning already is a major barrier to those who wish to escape the trap of poverty of learning or mediocrity. Banning a student from playing top sport just for moving from a school that does not meet their needs to one that does isn't going to make our competitions any better. How this can happen in New Zealand, where on the world stage per head of population we are probably the most competitive country in the world, is beyond belief.
* Dale Burden is the Headmaster of Mount Albert Grammar School