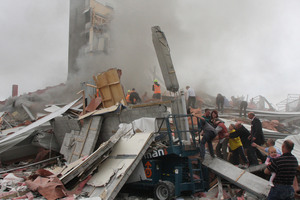 Fire officials have defended rescuers following allegations they were "inept'' in their efforts to save five women who died following the Canterbury earthquake.
The reaction follows a submission by Srecko 'Alec' Cvetanov at a Royal Commission of Inquiry hearing today.
Mr Cvetanov's wife, Tamara Cvetanova, died in the collapsed CTV building on February 23 last year, and he wants an investigation into search and rescue workers' actions following the earthquake.
Mr Cvetanov spoke to his wife on her cellphone on and off for almost three hours while she lay trapped in the rubble.
She described to him how she was trapped in a tunnel, with four other people who had also survived the building's collapse. She repeatedly called emergency services during this time.
In a call at 1.13am on February 23, Mrs Cvetanova suggested turning her cellphone off to conserve the battery.
It was the last Mr Cvetanov ever heard from her. He never had the opportunity to say goodbye to his wife and the mother of his two young children, Todor and Katerina.
Since then Mr Cvetanov has been fighting for an independent inquiry into the search and rescue effort at the CTV building, to try to understand why his wife could not be rescued in time to save her life.
Nigel Hampton, QC, acting on behalf of Mr Cvetanov, argued today that the efforts of rescue workers should be investigated by the commission because Mrs Cvetanova and the four other women died as a result of "inaction initially and subsequently inept, inadequate or inappropriate action.''
Fire Service chief executive and national commander Paul Baxter has refuted the allegation, saying evidence showed the response of rescue workers was ``entirely appropriate given the magnitude of the event and that many people put their lives at risk to save others''.
"We are concerned by the comments made by Nigel Hampton QC at the Royal Commission today and do not accept his views.
"Frontline personnel in Christchurch went above and beyond what is normally expected, showing incredible courage and providing an outstanding service to the public under very difficult and hazardous conditions. If staff had not taken such risks, I am sure more lives may have been lost,'' he said in a statement.
He said the Fire Service had enormous sympathy for the victims of the earthquake and their families, and would continue to provide evidence to the inquiry.
Mr Hampton said Mr Cvetanov did not want to place blame onto anybody, as he knew everyone acting after the quake had worked with the best of intentions _ but he wanted there to be better emergency responses for the future.
"This commission is the ideal forum to hear this. They have five weeks' hearing into the CTV building collapse and they are going to have all the background knowledge. This could be taken further into why someone like Tamara survived for 12 hours and why search and rescue couldn't get in to bring her out,'' Mr Hampton said.
He also drew parallels between this commission and the Royal Commission into the Pike River mining disaster, where search and rescue operations were part of the inquiry.
But commission lawyer Stephen Mills, QC, argued that investigating the actions of search and rescue personnel was outside the jurisdiction of the Royal Commission and that, under the commission's terms of reference, it was prohibited to investigate anyone involved in emergency responses.
"It seems to me that this falls entirely outside of what the Royal Commission is required to inquire into. What is being asked here is not the performance of building but why someone died after the building collapsed.''
Under the commission's terms of reference, "the role and response of any person acting under the Civil Defence Emergency Management Act 2002, or providing any emergency or recovery services or other response'' are excluded from being investigated.
A coronial inquiry would already be undertaken into Mrs Cvetanova's death, which Mr Mills argued was a more appropriate forum for investigation.
Commission chairman Mark Cooper said he would weigh up the arguments and make a decision in due course.