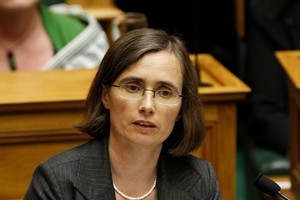 The Green Party is taking heavyweight legal advice into a meeting tomorrow which will discuss who will pay for the note-taker its deaf MP, Mojo Mathers, needs to follow proceedings in Parliament.
Speaker of the House Lockwood Smith has been criticised for his decision not to grant funding for Ms Mathers, but he has said he does not have the authority to approve it.
The matter will be discussed by the Parliamentary Service Commission - made up of senior MPs from all parties - tomorrow night.
A spokeswoman for Dr Smith - who has been paying for the service from his parliamentary budget while the matter is being debated - said he had "some options to offer".
However, the commission only provides advice to Dr Smith, and the final decision rests with him.
Greens co-leader Metiria Turei said her party had received advice from a law firm on whether the money should come out of the support budget all MPs receive, or from that which supports the overall operation of Parliament.
That advice had been given to Dr Smith and other members of the commission.
"We believe the money should come from the budget for secretarial services that are provided to the chamber, rather than personal support. If she had to pay for it out of her personal support budget it means she would not have the same amount of support funding for her constituency work that other MPs have.
"That's the money she would use to pay for someone to work in her out-of-Parliament office."
Mrs Turei said the benefits of the note-taker, who provides Ms Mathers with an instant transcript of what is being said in the House, would be wider than just to the MP herself.
"It is a system that could be used in advance of captioning for members ..."
Ms Mathers has said that without a note-taker, estimated to cost $20,000 to $30,000 a year, she could not participate in Parliament.