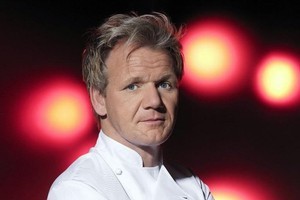 Controversial celebrity chef Gordon Ramsay is in Auckland to settle a multi-million-dollar stoush over his failure to turn up for two charity dinners.
Duco Events sued Ramsay for $2.1 million after he cancelled appearances at the events that were supposed to raise money for Napier schoolgirl Matisse Reid's organ transplant.
Yesterday, the chef appeared to be in good spirits after arriving in the country, tweeting 'Room with a view. Love Auckland. Glorious''.
Duco boss David Higgins said he was left $300,000 out of pocket from the event, and was seeking $2m from Ramsay and his company Gordon Ramsay Holdings, plus celebrity agents Kruger Cowne.
Higgins said he would only settle the court action with Ramsay if there was a payment in it for Matisse: "This court action is meant to put things right.''
The chef was promised around $100,000 for two nights work, plus first-class air fares, and all expenses paid.
Ramsay cancelled the first charity dinner a week before it was due to take place in June 2010, after his mother suffered a heart attack.
It was rescheduled for four months later, but he again cancelled.
Higgins' office confirmed mediation with Ramsay was underway today.
Ramsay will be appearing at an exclusive event at Smith & Caughey tomorrow night to launch his range of Royal Doulton tableware.
- APNZ