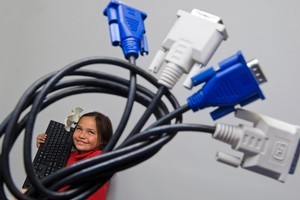 More than 1500 schools will have ultra-fast broadband by next July, with more than 700 extra schools to be connected to the network.
The Government today announced 693 more schools would be connected by utility company Chorus, bringing the total number of students with access to ultra-fast broadband to 410,000.
The latest schools to benefit are spread throughout the country, including Auckland, Dunedin, Invercargill, Timaru, Greymouth, Nelson, Gisborne and Whakatane.
Education Minister Hekia Parata said the announcement would allow schools and their communities to prepare for what would be a transformation in teaching.
Some 97.7 per cent of schools and 99.9 per cent of students would have access to broadband speeds of 100 megabits per second by the end of 2015, with the remaining schools in more remote areas having access to high speed wireless or satellite connections.
"The technology will also address concerns that rural schools in areas without quality broadband may struggle to attract teachers because of the difficulty of accessing professional development and on-going learning opportunities," Ms Parata said.

- APNZ