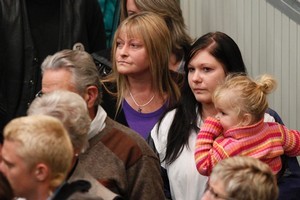 Families of Carterton balloon crash victims welcomed this week's Balloons Over Wairarapa festival, as a memorial service yesterday paid tribute to the 11 people killed.
More than 300 guests gathered at the Carterton Events Centre for the afternoon service for the 10 passengers and pilot killed on January 7.
Emergency services workers, families, politicians including Prime Minister John Key and Labour leader David Shearer, and Police Commissioner Peter Marshall joined local MPs and mayors in the wider Wellington region.
In a sign of the community's spirit of togetherness, dozens of those attending gave up their seats after it was announced there were too few spaces for family members of the victims.
Mr Key told the service the annual Balloons Over Wairarapa festival, which will be marked by a dawn tribute flight on Thursday morning, would be tinged by sadness.
"But it will also be a chance to once again see the beauty of those balloons rising above your landscape.
"I know you will all have your own way of dealing with what has happened, and only you will know when it's time to move forward.
"But what I want you to know is you have the support of all New Zealanders as you deal with this tragedy."
Mr Key said many of those gathered had a desire to find out what went wrong.
"As a Government, we owe it to you to find those answers. I can assure you we will do just that.
"That day, something went wrong, terribly wrong. There is no fairness in what happened - a morning which started so happily and peacefully ended in terrible sadness.
"I know that sense of unfairness will be felt most strongly among the families of those who died."
Carterton Mayor Ron Mark opened his address with a solemn recitation of the names and ages of the victims.
He said there would be some shyness in the community about embracing this week's balloons festival, with some feeling perhaps that it should be deferred for a year or two.
"If you are of that mind you need to know that I haven't had one family tell me that they don't want that event to go ahead.
"I have instead had many families tell me that they want to fly themselves, as a tribute to their loved ones."
Mr Mark paid tribute to the locals and emergency service workers who dealt with the accident.
"This horrific tragedy would test them to their core."
Governor-General Lieutenant General Sir Jerry Mateparae said memories of the event would linger but the service would act as part of the healing process.
"As we gather today to reflect on this tragedy, I urge everyone to come together, to support each other and to draw on this community's strength and resilience as you move forward."
Those killed in the crash were pilot Lance Hopping, 53, of Masterton; husband and wife Howard, 71, and Diana Cox, 63, of Wellington; husband and wife Desmond, 70, and Ann Dean, 65, of Masterton; cousins Valerie Bennett, 70, of Masterton and Denise Dellabarca, 58, of Paraparaumu; partners Stephen Hopkirk, 50, and Belinda Harter, 49, of Lower Hutt; and Johannes Jordann, known as Chrisjan, 21, and girlfriend Alexis Still, 19, both of Wellington. APNZ
- APNZ