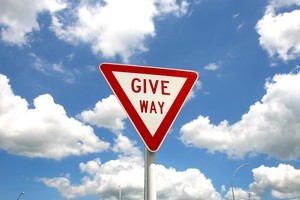 When give way rules change on a Sunday morning later this month, we can reveal the intersections to watch.
Already these are some of the country's most accident-prone intersections.
Figures released by the New Zealand Transport Agency show some intersections in our main centres have had more than 60 crashes over the past five years.
The agency is hoping to reduce the number of crashes at these intersections with new give way rules aimed at improving intersection safety.
Since 1977, Kiwi drivers have given way to vehicles on their right, but this will change to left-turning vehicles given the right of way from 5am on Sunday, March 25.
Agency figures show Te Irirangi Drive-Great South Rd is the most dangerous intersection in Auckland with 64 crashes recorded between 2007 and 2011.
It is a large controlled intersection with a minimum of three traffic lanes and a left turn slip lane on each approach.
NZTA spokesman Andy Knackstedt says drivers need to be aware of the new rules at controlled intersections.
The intersection of Redoubt Rd and Great South Rd has had 63 crashes, followed by Lincoln Rd and Triangle Rd with 56 and Great North Rd and Titirangi Rd with 54.
The uncontrolled intersection at Grey Lynn on the corner of Great North Rd and Bullock Track has been the scene of 50 crashes.
The intersection hotspot in Whangarei is on the corner of State Highway 1 and Selwyn Ave with 25 crashes.
In Hamilton, it is Peachgrove Rd and Te Aroha St where 60 crashes have occurred. In Rotorua the SH30 and SH5 intersection has had 25 crashes and in Tauranga SH2a and Cameron Rd has had 34.
Wellington's Rugby St and Adelaide Rd intersection has had the most crashes in the capital over the past five years, with 51 recorded.
Knackstedt says 74 per cent of drivers correctly answered an NZTA survey on the new rules which asked which car gave way where one car was turning right and the other was turning left. However, that dropped to 61 per cent when both cars were turning right. "Considering we haven't started our campaign yet, it's good," he says.