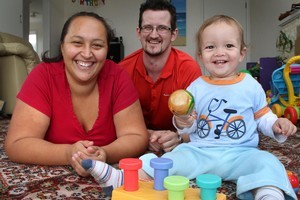 A tear-jerking Hollywood movie taking New Zealand by storm echoes the real-life story of a brave Kiwi couple.
The Vow, a true tale of newlyweds who rebuild their relationship after the wife loses her memory in a car crash, is No 1 at the box office.
The film, starring Rachel McAdams and Channing Tatum, has an all too familiar ring about it for Tauranga's Tim and Stacey Frantzen.
The childhood sweethearts were married for just 13 months when Tim's motorbike smashed into the back of a bus in Auckland in 2004.
Aged 23, he was in a medically-induced coma for two days, suffered five brain haemorrhages and wasn't expected to survive.
When he finally came round, Tim realised his old life had been cruelly snatched away.
"The person I was died on the day of the accident," he said. "For more than a year I grieved for the man I used to be because I knew I would never be the same again."
Tim had to learn to walk again after receiving moderate-to-severe brain injuries. He also suffered from short-term memory loss, depression and chronic fatigue.
Fortunately, unlike McAdams' character Paige in The Vow, he could still recall his relationship with his spouse.
"It was harder on Stacey than it was on me," Tim said. "She had to get to know me all over again.
"I had dramatic mood swings and we couldn't even do the simple things we used to, like going out for a meal or to the movies. It's a miracle that she coped and stayed with me."
Tim had to give up his job as a sales rep and the couple lost their house. Stacey became the breadwinner and they moved to Dubai for two years where she worked for a recruitment firm.
"I was warned that many couples in our situation split up," Stacey said. "I was adamant that wasn't going to happen to us, even though I knew it was going to be very tough.
While living overseas, Tim built a new career as a fitness trainer.
And after the Frantzens returned to New Zealand in 2010 they were thrilled when their son Jacob, now 15 months, was born.
"That was just an incredible surprise," Tim said. "After my accident, we had to put any plans for having a family on hold.
"We thought we would never be able to have children."
Although the couple, both aged 31, have read reviews of The Vow, they don't plan on seeing it at their local cinema.
"The story is too close to home and I don't want to burst into tears in public," Stacey said.
"I'll wait until it comes out on DVD, then I can have a wee cry in private."