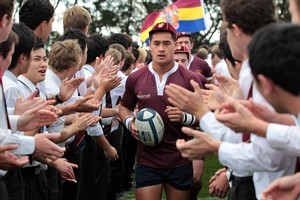 Elite rugby players who switch schools in Auckland face an automatic six-week stand-down as the fight to stop poaching cranks up.
Secondary school heads this week voted by what is understood to be a two-thirds majority to force any student who switches schools in the Auckland region - and who is good enough to play in the premier 1A and 1B rugby competitions - to sit on the sideline for the first six weeks.
It is being seen as a way principals can stop the top schools from taking their best players. But those against the new rule say it blocks those transferring for legitimate reasons from doing what they love.
"It's a carpet-bomb approach," said Mt Albert Grammar School principal Dale Burden, who compared it to banning all cars as a way to reduce the road toll. "It picks up everyone, including the innocent."
Other schools against the move include St Kentigern and King's Colleges.
The rule applies from the end of February and at this stage applies to rugby - the sport at the centre of most poaching allegations in recent years.
Burden said his school had two students who moved there over summer who would have been unfairly caught if the rule had been in force. David Hala'Ufia, 18, and Adam Batt, 17, started at Mt Albert last month and narrowly escaped the new policy.
Hala'Ufia came from Northcote College and said he had the blessing of his principal. He said the change to the rules was crazy.
"In my opinion it's unfair on students trying to get into their chosen career and sport."
Both said the decision to move schools was not taken lightly and academic, training and sport factors were all taken into account.
Batt, formerly of Takapuna Grammar, wants to train as a builder and said Mt Albert Grammar offered better subjects to enable this.
Burden said current rules to tackle sports poaching were adequate and a six-week ban was heavy-handed. "If an All Black can run around Rarotonga naked and drunk and miss out on three to four games, it's totally unfair for a students to be stood down for six weeks."
It was up to schools to improve what they were offering to keep their talent.
But College Sport chief executive Manoj Daji believed the majority thought a more effective deterrent to poaching was needed.
"Schools have the right to protect their home-grown talent. Any school that thinks poaching is a good thing and best for the student is wrong. It's never about their education - a student is not a piece of meat to play sport," he said.
Secondary Principals Association head and principal of Edgewater College, Allan Vester, agreed. "Schools try and sugar-coat their actions with statements about opening doors and giving students enhanced opportunities ... but if that happens it's purely a by-product of the underlying ethos of winning at all cost."
The change comes after a recent poaching charge against St Kentigern College was thrown out. A complaint was lodged over the transfer of a 15-year-old from De La Salle College, but it was found the school acted ethically.
That may have prompted the latest change and one source said the new rule was something that could one day end up being tested in the courts.