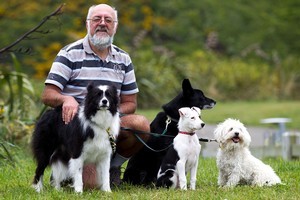 Mike Butler is tempted to move to Southland. The winters may be cold, but the Southland District Council's $25 per dog registration fee looks mighty inviting to the Wellingtonian, who must pay more than $350 to register his three dogs this year.
He might be joined by a few Auckland dog owners who last week learned that registration fees could skyrocket in July.
Auckland Council has ditched proposed "good-owner" discounts from its long term plan and good owners of desexed dogs could wind up paying $120 per pooch, up from $47. Harder hit are the the owners of entire (unfixed) dogs, who may pay $160 - up from $53. Some Wellington dog owners already pay $160 per dog because they are not entitled to a discount.
City leaders there are proposing to nudge that fee up to $165 under the draft annual plan, which would make the city the most expensive place to register a dog among the 20 city and district councils contacted by the Herald on Sunday.
Southland was cheapest: its $25 flat fee was not expected to change under the council's next annual plan.
It was enough to make a dog owner head south, Butler said.
"Wellington is horrendous. There's no way it costs that much to administer dog policy. If they're having problems with dogs, they should punish those owners, not good owners.
"I'm tempted to move my dogs to Southland. It might just be worth buying a house down there."
His dogs are desexed but he must pay $117 each to register them because he won't let dog control officers check his property when he is not home, making him ineligible for a responsible dog owner discount.
Wellington councillor Stephanie Cook said the council provided a good service, but that came at a cost. They also encouraged owners to desex their dogs.
"People spend a fortune on their dogs - this isn't much in the scheme of things."
Southland dog owner Donna Hailes was "definitely happy" with her council's fees.
"I can't imagine them getting away with charging much more though."
The council's environmental health manager, Michael Sarfaiti, said a high working dog population and low number of complaints kept fees down. The council also "took the view that costs associated with non-compliance should be recovered through fines, rather than being funded by responsible dog owners," he said.
Standard fees
* Palmerston North City Council: $121
* Hamilton City Council: $116
* Hutt City Council: $98
* Christchurch City Council: $86.90
* Western Bay of Plenty District Council: $77
* Hauraki District Council: $75
* Nelson City Council: $73.50
* Queenstown/Lakes District Council: $60
* Whangarei District Council: $54
* Far North District Council: $43
Each fee is for the 2011/12 year and is that for those not eligible for a reduction because owners have either not desexed their dog or are ineligible for a responsible owners' discount, or both.