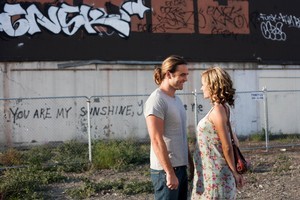 Petite actor Camille Keenan has wrapped up filming a romantic comedy in the ruins of Christchurch.
Set one year after the devastating February 2011 earthquake, Sunday follows a troubled couple who are only weeks away from having a baby.
Spartacus star Dustin Clare teamed up with size-six Keenan to generate the story. Their vision quickly found support from filmmaking couple Michelle Joy Lloyd and her husband, Ryan.
Keenan will also be appearing in the current series of Packed to the Rafters as Cody Jennings' sister, Bree.
In Sunday, Wellington-born Keenan played heavily pregnant Eve, who must decide whether to stick it out with her partner, Clare's character Charlie.
Keenan said the trauma the city had endured over the past year resonated with her.
"I've been going there ever since I was about 8 to stay with my aunt. After the earthquake in February, [she] came over to stay with me in Sydney. We're very close and I've also got other family there, so it is a very special city to me."
The Lloyds shared the directing duties.
Michelle said the city was incredibly helpful to the filmmakers, who finished principal photography on Thursday.
She hoped the film accurately portrayed the experience of most Cantabrians.
"We don't go behind the gates. We don't go into the red zone. We basically just see the city from the way the people of Christchurch would see the city."
The theme of rebuilding was a key part of the plot.
"We are showing some of the pain and destruction that exist in Christchurch. But we're also showing some of the unaffected areas and some of the beauty that still exists within the city."
Lloyd said the resilience of people who went about their business was an inspiration.
Keenan moved to Australia in 2009 after landing a role in the drama series Satisfaction.
Sunday will be in cinemas early next year.