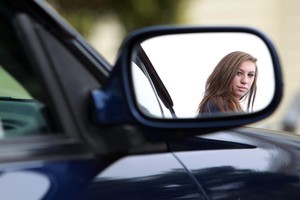 Mikaela Froggatt-Smith was just two years old when she was hit by a reversing car in her family driveway and pinned under the wheel for five minutes until help arrived.
Now, almost 16, she is about to learn to drive, and wants to urge other motorists to look out for little kids - especially when reversing.
"It's a weird feeling when I hear about little kids being hit in driveways, because I know what happened to me," Mikaela said.
"I can't remember anything about that day, but my parents have told me the story so many times I know it so well."
Mikaela was pushing a doll's pram in the Mt Wellington driveway when a visitor to a neighbour's house backed over her, pinning her under a 1200kg Ford Telstar.
She spent five minutes face-down with her torso stuck under the wheel of the car while the panicked driver raised the alarm. Her mother rushed out of the house to find Mikaela stuck, with a trail of blood coming from her nose.
The driver backed the car off her but had to move again after he landed on her arm.
Mikaela was eventually freed by emergency services who were amazed she had not only survived but suffered only bruising and a lacerated liver.
Doctors said she escaped only because her bones were flexible and the wheel missed her head, neck and thorax.
Mikaela's father, Lindsey Froggatt, said waiting for results of scans in hospital was the longest hour of his life.
Mikaela said she still has "Officer Ted" - a big cuddly bear given to her by police officer Sandy Beckett who attended the accident.
"[The experience] will make me a better driver when I do learn - definitely."
Deaths in the driveway
Four or five children are killed each year on their own driveway, usually by a parent or family member.
One child is seriously injured each fortnight from a driveway accident. This does not include cars backing on to the street and hitting children on the footpath.
Anne Weaver from Safekids says parents need to check before they back and, where possible, fence off areas so kids are separated from cars.
Reversing cameras are helpful but should not be relied upon completely.
"We know that parents with reversing cameras have still run over their children."