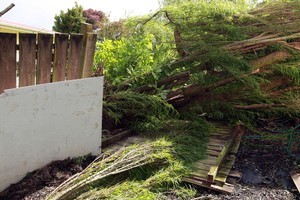 A severe weather warning has been issued for much of the country this afternoon, as strong gales from the tail-end of today's storm continue to blast the country.
MetService has issued a strong wind warning for Wellington and Wairarapa, coastal Marlborough, Hawke's Bay, Gisborne, with gusts between 120 and 150km/h predicted until later tonight.
Winds of these speeds pose a serious risk of damage and can make travel hazardous, said MetService.
Widespread damage has already been reported across the country as tree branches and light structures were sent flying in the rough weather.
Travel plans have also been disrupted, and Interislander crossings have been cancelled until tomorrow morning.
Metservice warned rough seas and heavy swells are still possible and may cause erosion and storm surge inundation in some coastal areas.
Warnings for remaining parts of the North Island and inland Marlborough have been lifted as winds are expected to continue to ease in these areas.
Metservice said rain has eased over the ranges from Mount Taranaki to Mount Ruapehu, Wairarapa, Wellington's eastern hills, and the Kaikoura ranges and the warning for these areas have also been lifted.
Northern Hawkes Bay remains on heavy rain watch this afternoon and evening.