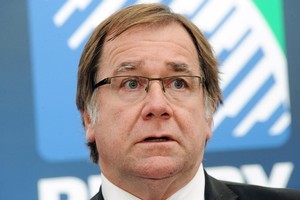 A raft of cuts aiming to save up to $25 million at the Ministry of Foreign Affairs will only go halfway to achieving the ministry's target and chief executive John Allen has admitted further changes are ahead.
Mr Allen admitted at the Foreign Affairs select committee yesterday that the target for savings was $40 million a year after Labour's foreign affairs spokesman Phil Goff obtained an uncensored version of the ministry's briefing to the incoming minister.
The figure was blacked out in the version of the briefing that was publicly released last month. It is almost double the amount expected to be saved by a proposed overhaul which includes cutting about 300 jobs, closing at least two embassies and cutting remuneration packages for diplomats.
Mr Goff confronted Mr Allen with the $40 million figure, saying the briefing had described it as necessary to "meet the Government's requirements".
However, Mr Allen said it was the figure the ministry believed was necessary and not an instruction from the Government. He later said some savings had already been achieved through efficiencies, the current change programme would save more "and some of them are still to be delivered".
He said MFAT had to deal with fixed income and rising costs. " ... We believe we need to find savings in the order of $40 million."
He also defended the so-called 'change programme' as essential for a modern foreign service - but he and foreign minister Murray McCully have indicated a backdown on proposals such as those to cut allowances of diplomats serving overseas after concerns staff would walk away from their jobs.
Mr Allen said some allowances would remain, but acknowledged that the remuneration was a concern to some staff.
Mr McCully made his views on the proposals clear to Mfat leadership, saying some of the proposed cuts were "at the ambitious end", especially those relating to remuneration. He said Mr McCully had told MFAT to move with care and pay heed to feedback.
In a survey by diplomats' union - the Foreign Service Association - soon after the cuts were announced, almost three-quarters of staff based overseas said they were considering resigning or returning to New Zealand.
Mr Goff asked how the ministry would attract good staff if diplomats were put on fixed term contracts overseas with no guarantee of a job upon their return to New Zealand.
Mr Allen said it was the same model used by most other organisations - in the private and state sectors. "Which is to appoint people to a role, to pay them for the role they're doing and to allow them to back themselves in the development of their career in applying for subsequent roles."
He said if they were not successful in applying for another role within the ministry, they would be put into a "surge pool" of people to be deployed where needed until they secured another appointment.