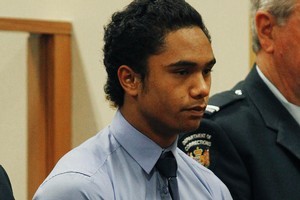 Prison is not the right place for Raurangi Mark Marino, who was yesterday sentenced to 10 years' jail for the rape of a five-year-old girl, a Hastings District Council member says.
Marino was sentenced to 10 years behind bars after attacking the young tourist as she slept inside her parents' campervan shortly before Christmas.
But Henare O'Keefe - who was named as a national local hero in the New Zealander of the Year awards for his work with combating family violence, mentoring youth, and assisting in the reintegration of prisoners - told Newstalk ZB this morning that Marino would be better off in a marae-based programme where he could learn how to change surrounded by good, solid citizens.
"It's all about the upbringing.
"We've got to step outside the law because it's just not working."
More emphasis needed to be placed back in the home, he said.
"You've got to get into the home, right from the get-go.
"A lot of the young people I deal with, if you just let them go, their career's already been mapped out for them."
Marino's past was revealed at yesterday's sentencing.
Judge Cooper acknowledged a letter from Marino's mother which detailed his upbringing amid a gang culture and abuse. "I want to make it clear that you are responsible for your own actions," he told Marino.
"Having said that, your whanau and your extended whanau are responsible for an upbringing which has produced a young man who committed such an appalling and sickening crime."
His mother and father - whose families held ties to Black Power and the Mongrel Mob respectively - split up when Marino was 3.
Marino had been involved in Child, Youth and Family care, and years of "bad parenting" had exposed him to violence between his parents and from his father. He was exposed to alcohol and cannabis at an early age, and also sexual abuse _ the most recent episode when he was 15.
Defence counsel Catherine Ewen said between the age of 13 and 16 Marino did not see his mother, who lives in Auckland, while his father had been a Mongrel Mob member for as long as he could remember.
After leaving school, Marino went to live with his mother in Auckland to try to find work, but eventually found work in Turangi in a pruning team.
Crown prosecutor Fletcher Pilditch told the court yesterday: "I think it's fair to say that since the events of 21 December ... heads have been shaking the breadth of this country.
"He's brought shame to himself, shame to the people of Turangi and he's brought shame to New Zealand for these acts."
His victim still suffered bad dreams, tiredness and at times felt overwhelmed, while the emotional impact on her parents had been "equally great", Mr Pilditch said.
- APNZ