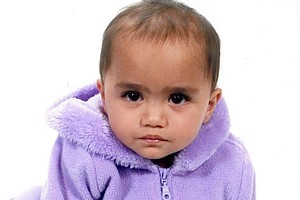 A coroner has pointed the finger at unacceptable parenting in the last days of a toddler's life and a failure by Child, Youth and Family to assess her safety as contributing factors in her death.
Hail-Sage McClutchie died of head injuries suffered under the care of her mother, Kelly Ann Percy, and stepfather, Adrian Wilson-Minimita, in Morrinsville in September 2009.
Police initially treated the 22-month-old's death as a homicide but have never charged anyone. They referred her death to the coroner last April to investigate.
In his findings released yesterday, Coroner Peter Ryan said the failure of Ms Percy and Mr Wilson-Minimita to seek medical care for the toddler was unacceptable and highlighted the "absolute necessity" for parents and caregivers to seek help for sick children.
The toddler was not taken to a doctor despite having a number of falls.
Hail-Sage then started vomiting and was lethargic but was taken to hospital only when she had a seizure.
She died the following day.
"I can accept that parents may wait for one or two days for symptoms such as vomiting, loss of appetite and energy to resolve spontaneously, but it is unacceptable that no medical attention would be obtained by day three or day four of such symptomology in a 22-month-old child."
Mr Ryan also considered CYF's role in the girl's death, saying the agency had no involvement with her before her hospital admission despite staff taking Ms Percy's first child from her.
He accepted CYF had made changes to its assessment criteria since the toddler died but "in my view, the failure by CYF to undertake a safety assessment ... was a contributing factor in Sage's death", he said.
The inquest revealed that CYF was not aware Sage existed until September 18, 2009 - nine days before her death - when Plunket told the agency Ms Percy had given birth to a third child but that staff had not seen that baby for nine months.
CYF chief social worker Paul Nixon told the inquest the social worker had exercised discretion as there were no concerns for Hail-Sage's safety.
But it was now compulsory for a safety assessment to be completed whenever CYF was made aware of a vulnerable child.
Mr Ryan said the cause of Hail-Sage's head injuries remained inconclusive after two pathologists believed the likely cause was a fall from play equipment about a week before she died or from a swing a few days later.
But consultant paediatrician Dr Peter Heron said the retinal haemorrhages she suffered were likely caused by violent shaking.
Mr Ryan said: "I am left with a difference of medical opinion, in a factual context of multiple plausible scenarios which I am unable to resolve in the absence of any other independent evidence supportive of one particular view."
Matamata-Piako police chief Rod Carpinter said the findings were not enough to prosecute anyone over the toddler's death because the inquest's standard of proof was lower than that required in a criminal jurisdiction.
He said the case was still open and police could act upon new information.
Delia Percy said not knowing how her granddaughter died will stay with her for as long as she lives.
Hail-Sage's aunt Desi Walker said Delia Percy was still struggling "without any closure at all" and would hold on to Hail-Sage's belongings until she dies.
"It will always be nagging away at her that nothing has been determined until the day she dies but for us, that the police have left the case open, you never know what may happen in the future."
Mr Ryan recommended government agencies increase information sharing so vulnerable children could be identified.
He also recommended that through the Families Commission, greater efforts be made to educate families on the need to monitor vulnerable children within their extended whanau.