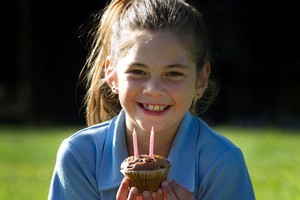 When asked how old she is today, Ireina Paurini pauses for a long time and looks unsure how to answer.
"Umm ... I'm 2 but I'm actually 8," she says.
"No wait - I'm 2 for real," she decides.
Ireina is 8-years-old but celebrates only her second official birthday today.
Born on the morning of February 29, 2004, she is among millions of people around the world who will get to celebrate their official and rare date of birth this leap day.
Statistics show that the chance of being born on February 29 is 684 out of a million, or one in 1461.
Former Kiwi rugby league star Clinton Toopi, born on February 29 in 1980, celebrates his eighth official birthday today.
Traditionally a leap year - and better yet, today - is the only time a woman can propose marriage to her man.
In Greece, getting married in a leap year is said to be unlucky and therefore couples avoid getting hitched in these years.
Ireina has always understood the concept of a leap year and how special a leap day is.
"It means I only have my birthday every four years. It's an extra day," she says.
The Year 4 student attends St Paul's School in Massey, West Auckland.
Her class will get a special lesson today about the extra day on the calendar and the star of the lesson will be Ireina.
Holding a chocolate-chip muffin with two candles poking out of it yesterday, she said she was looking forward to tonight's celebrations.
"We're going out for dinner - we're going to Valentines."
Mum Herena Paurini said she was completely chuffed to have given birth on a leap day.
"She was actually due on February 25, so was four days late. I went into labour on the 28th just after 10pm and had her the following morning.
"In the days before, the nurses kept asking me, 'What if she came on the 29th? That'd be special.'
"I don't know anyone born on that day, so I think it's really special because it's a different day - she's even more special."
The family usually celebrates Ireina's birthday on February 28, which is the legal day those born on the 29th in New Zealand can observe their special day any other year.
This year the family will start a new tradition by taking a trip to the Gold Coast to celebrate Ireina's official birthday.
"I've decided that she can choose for us to go wherever she wants on these years," Ms Paurini said.
"Her birthday comes around every four years so we have lots of time to save up for the next trip."