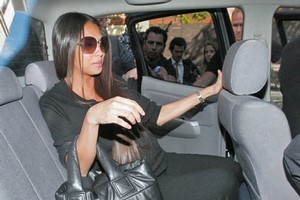 Kim Dotcom's heavily pregnant wife has made her first public appearance since her husband was arrested in a raid at their rented luxury mansion.
Dressed in black, Mona Dotcom sat in the gallery next to her husband as his freedom was argued at the High Court at Auckland yesterday.
At times the couple held hands during the proceedings in the cramped courtroom.
They have been back together for less than a week after Dotcom was granted bail last Wednesday.
The Crown, on behalf of the US Government, has appealed that decision.
German-born Dotcom, 38, is accused, with three other men, of breaching international copyright laws to the value of US$500 million ($595 million) through Megaupload, the file-sharing site he founded.
Crown prosecutor Anne Toohey yesterday told the court Dotcom was still a flight risk.
She said two bank accounts had been discovered since the last hearing and there was still a risk of Dotcom getting illegal travel documents.
Dotcom's lawyer, Paul Davison QC, said his client would spend 25 weeks in jail if the court reversed the decision.
Mr Davison said his client had no more money available to him and had no intention of going back to Germany.
Justice Tim Brewer will deliver his decision today.
- APNZ