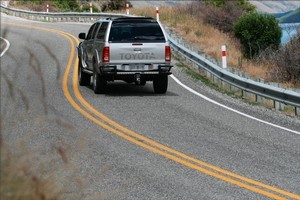 I was wondering when Ward St in New Lynn, close to the Clark St end, is going to be finished. It has road markings on it but it is really rough with big dips and troughs either side of the street and at the entrance to it from Clark St. It seems a bit unsafe. It hasn't been worked on since December. Do you know when it will be finished?
- Tanya Brown, New Lynn.
Auckland Transport has done some core tests on Ward Street to ascertain the stability and strength of the road after the recent repair work. The final asphalt surface won't be laid until after the results have been analysed. Engineers will then know whether more work is required on the road or if they can go ahead and do the final seal.
As I understand the rule regarding double yellow lines is that they must not be crossed under any circumstance. I am concerned that within Auckland city there are increasing areas were double yellow lines have been applied and curb parking is allowed.
This creates a number of instances where the double yellow lines must be crossed to get around the parked cars. Can you clarify the legal position in these cases?

- David Coon, Auckland.
This is a tricky one. There are instances where you may cross double yellow lines, for instance to turn into a driveway or a side road. Common sense dictates that you must be careful when doing this, and it may be safer to drive further to where visibility is better, and then turn back.
Mark Stockdaleof the AA says that there don't seem to be any rules about minimum lane width before parking is permitted.
Yellow no-passing lines are usually marked where visibility is limited, say approaching the brow of a hill or a corner. If car parking narrows the lane width to such an extent that it forces you over a solid yellow line, that is potentially unsafe. Mr Stockdale suggests you contact Auckland Transport about the road(s) in question and ask them to review the carparks on sections of the road with no-passing lines. You are not required to give a wide berth to parked cars, but on a section with no-passing lines you should be able to pass while remaining in your lane without the mirrors touching. On some narrow roads it may be necessary to cross the centre of the road to pass legally parked cars (or stop until it is safe to pass), but this should only be on sections with white (or no) centre lines where forward visibility is clear.
Is it imperative that your driver's licence be carried with you at all times? Yesterday, I went walking the dog after coming from work and left my licence in my wallet in the brief case. The park is five minutes from my home and I was stopped in between and fined $55 for not having my driver's licence on me. I gave other forms of identification, but because I had no photo ID the fine was given. What is the ruling on this?
- Shero Pathon, Auckland.
The ruling is very clear. In New Zealand you must have your driver licence (or international driver permit) with you at all times when you are driving.
Do you live in Auckland? Do you have a problem you want solved? Phoebe Falconer answers your queries every Tuesday and Thursday. Email askphoebe@nzherald.co.nz.