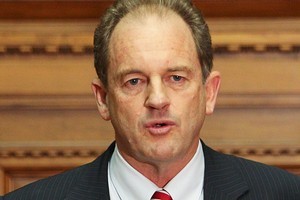 The Labour Party has called on several friendly external advisers to help with a major review of its organisation, including US-based academic Rob Salmond and technology businessman Selwyn Pellett.
Labour leader David Shearer and President Moira Coatsworth set out the scope of a review of the party organisation and its processes yesterday - including its membership structure, list ranking process and party involvement in policy formulation.
Mr Salmond and Mr Pellett are both on an advisory group, called "critical friends," which Ms Coatsworth said would provide critical advice and input to the review.
Mr Pellett, chief executive of Imarda and co-founder of Endace, has spoken at Labour conferences about economic reform and supported the party. However, he was critical of Labour before the 2008 election, saying then leader Phil Goff should step down.
Other "critical friends" included current MP Parekura Horomia, former MPs Margaret Wilson and Tim Barnett and former British Labour MP Bryan Gould.
Labour decided on the review after getting a low result of 27 per cent in last year's election. The party will hold a series of meetings and take submissions throughout March before a discussion paper is produced in June. A final report will be produced in July and any major proposed changes will be considered by the annual conference in November.
Mr Shearer, who took over as leader after Mr Goff stepped down last year, said building up the party's membership, financial support and its organisation on the ground were all critical if Labour was to win the election in 2014. An analysis of Labour's election campaign, looking at the reasons for its dire result, would feed into the main review.
He said many people he had met told him they felt Labour was not the party for them last year and they had instead voted for NZ First or the Greens.
"I don't think they have been put off Labour completely. But it's up to us to go out and win those people back now.
"People need to see the Labour Party as a progressive party that stands up for what they believe in, for the issues they are worried about."
The party would also look to organisations such as Greenpeace to see what it could learn.
Ms Coatsworth said "progressive" parties around the world were all adapting and Labour would also look overseas for ideas.
"All healthy organisations regularly review and this won't be a one off. But this review is really important to us because we do acknowledge we've got quite a lot to do to be ready to win in 2014."
She said the British Labour Party had recently done a similar review and proposed alternatives to formal party membership, such as having a supporters category.
Ms Coatsworth said Labour's membership was currently in the mid 50,000s but much of that was made up of affiliated union membership.
The review will be led by another team, who will consult and meet with members. That group includes current MP Nanaia Mahuta, former MP Rick Barker, Ruth Chapman and Mark Hutchinson.
Mr Horomia and Ms Mahuta are the only current caucus members with formal roles in the review.
Ms Coatsworth said that reflected the importance of the Maori vote to the party.