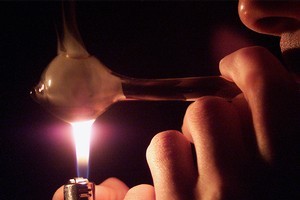 A Hamilton man will appear in court today on several charges after a tip led armed police to storm his home, where they say they found a methamphetamine laboratory.
The man, who court documents said was a caregiver, was among three people spoken to when armed police went to his Tramway Rd home with a search warrant about 7am on Friday.
They found a range of equipment used to make methamphetamine at the property, which the Herald understands is a one-bedroom home adjoining a Housing New Zealand unit.
A sign on the gate at the driveway read: "Keep the gate closed at all times. 'No' opening gate with any cars at all times."
Trevor Tuhakaraina, who lives in an adjoining unit, said he was awakened by loud banging and looked outside to see a number of police cars, armed police officers, a paddy wagon and one of his neighbours sitting on the front lawn.
Mr Tuhakaraina said that apart from the occasional "hello" and a wave to his neighbours, he often noticed the arrested 31-year-old man, who lives at the house with his mother and her nephew, walking to and from a shed at the rear of the house but thought nothing of it.
He also said the man could often be seen out the back of their home burning materials which let off an unusual smell.
"There was this plastic smell that used to go up the whole street and I'm surprised that no one ever complained about it," he said. "Actually, it was stronger than plastic, I don't know what it was but it really stank."
Senior Sergeant Freda Grace of Hamilton police said a number of people who were present at the address "are assisting us with our inquiries".
The man appeared in the Hamilton District Court on Friday afternoon to face methamphetamine-related charges of possession of materials, equipment and precursor substances and was remanded in custody to reappear today.
Ms Grace said it was information from the public that led to the police action.
A spokeswoman for Housing New Zealand could not say whether the property belonged to the state.