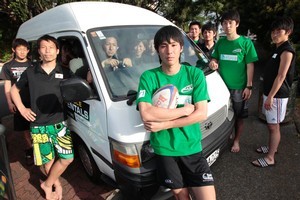 A group of Japanese touch rugby players had nearly all their possessions stolen while they ate at a restaurant in South Auckland only hours after arriving in the country.
Brazen thieves used bolt-cutters to cut the locks on the back of three trailers and smash windows of vans to take thousands of dollars of gear, including computers, iPods, phones, passports and the players' kits.
The team are here to play in the national touch championship in Palmerston North but have been forced to split up with some members staying in Auckland to buy new gear and replace passports.
Brett Wallbutton, 27, a New Zealander who has lived in Japan for six years, was looking forward to showing off his homeland to his teammates.
"Apparently it happened in about 15 minutes. When we finished someone walked out and saw glass all over the ground and everyone ran out."
He felt "totally embarrassed" for his homeland.
"Most of the team have never experienced anything like this because Japan is pretty much crime free so it was a big shock. A couple of them have had just about everything taken so they're pretty upset. A few of the girls were crying; it's been a stressful weekend."
Yesterday they visited Dressmart in Onehunga and The Warehouse to replace lost items, but the most important thing was the passports. Wallbutton said he hoped that all the paperwork would be completed today to enable them to join their teammates in Palmerston North.
Team member Takashi Obata lost his bag, wallet, camera, laptop and iPod.
"We are so upset now because we have looked forward to this trip for so long; some people have had their boots and uniform taken as well which is hard for them."