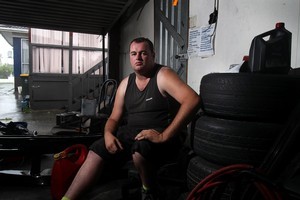 Souped-up cars are at the centre of heated retaliation attacks and DIY detective work as thefts accelerate to about 14 a week.
At least 32 high-performance vehicles have been stolen in the past seven weeks and this month, thefts have risen to two a day.
Frustrated car owners are fed up and their retaliation has been fast and furious.
Incidents involving thefts and disputes over high-performance cars in recent weeks include:
A policewoman bashed unconscious while trying to arrest a driver who led her on a chase in a stolen Subaru station wagon.
A policewoman charged with allowing her uniform to be used by another person who stole an $11,000 Mitsubishi Evo.
Late night callouts by groups of frustrated car owners seeking vengeance.
Thieves posting photos of their booty on Facebook, posing with stolen cars and wads of cash.
Groups of young men setting up Facebook pages to do their own detective work to catch thieves.
Drifting competitor Chris McPherson said his $35,000 Nissan Cefiro race car was his baby. He spent every spare hour in his garage, and every spare dollar on car parts.
But, like many others, McPherson was gutted to arrive home to find his car had been stolen during the day from his locked and chained garage in Manurewa, just days before a championship.
"It is like my kid," McPherson said.
Car owners frustrated by a lack of response from the police had decided to take matters into their own hands, he said.
Last weekend, the family home of suspended policewoman Karis Charnley was trashed in a retaliation attack after she was charged in connection with the theft of Jerome Kino's Mitsubishi Evo.
During the midnight onslaught, three carloads of people smashed beer bottles through the windows and tore down fences at the Devonport property while yelling abuse.
McPherson said the offenders were not his friends but he had spoken to them about the attack on the home.
It was likely the recent spate of cars thefts were "steal-to-orders" from "chop shops" who dismantled stolen cars to sell the parts, he said.
Police Inspector Les Paterson said several people involved in chop shops had been arrested during police raids last month, and most of the stolen cars were recovered by police within a few days.
No specific police units were dedicated to car theft, he said. However, when a vehicle was reported stolen, the details such as VIN and engine number were entered into the police system followed by a search of the area. The files were assigned to investigators but most cars were recovered by frontline staff during police patrols.