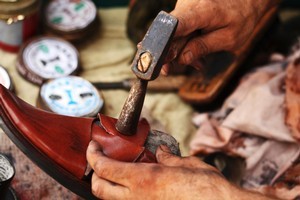 I recently had a serious falling out with my local cobbler over a "project" I hoped we could work on together.
I won't mention his name or the name of his cobble shop as I don't want him to get any publicity he doesn't deserve, but for the sake of the column, let's call him Gerd.
I have been using Gerd for years for repairs of boots, shoes and for the occasional cutting of illegal keys and in all the years I have dealt with him I have always found him to be honest, professional and eager to please.
In addition to repairs, I have purchased many of my best shoes from the shelf where other customers have yet to pick up their order. For clarity, these are shoes that have been repaired but haven't been picked up for 18 months or more.
But he was more than just my cobbler. He was my friend. We didn't hang out together all that much socially as I had other friends I preferred to hang out with, but you could say there was a healthy respect between us.
He respected what I did and I respected and admired the dedication and time he must have put in to become one of the country's most respected cobblers.
He could have gone overseas and chased the big dollars, but he chose to use his skills here. Don't get me wrong, it is not like an air hostess is ever going to get on the in-flight PA system and ask: "Is there a cobbler on board?" But you have to respect someone who does a job that most people simply couldn't do.
So why have Gerd and I fallen out? Well, yesterday I approached Gerd with an offer I was sure he couldn't refuse.
A problem I have been having over the years is that the soles of my fine Gucci Italian shoes tend to wear out well before the upper shoe itself does. On the other hand the thick gelatinous rubber soles of the Nomads I bought in 1989 are still as thick as the day I bought them.
It would be fair to say that the upper part of the shoes are still in pretty good nick as well, but for the moment have gone a little out of style.
I simply asked Gerd as a professional to remove the thick gelatinous soles from the Nomads and transplant them on to the Gucci Italian dress shoes. In addition to giving the shoes a new wear-and-tear life of about another 35 years, they would add a couple of centimetres to my height, something that is quite an asset when attending top social events in Auckland.
Gerd flatly refused. Initially he protested that it would be very difficult and costly, but I told him I was willing to pay whatever it took.
He then claimed it was against some sort of hypocratic shoe repairer's oath.
He said it was the cobblers' equivalent of a doctor's oath to practise medicine ethically.
Finally, he insulted me by stating he wouldn't do it because they would "look bloody stupid". Gerd was questioning my sense of style. And, frankly, you don't expect that from your cobbler.
I felt betrayed. I stormed out of his store and we haven't spoken since - and that was 15 hours ago.
I have visited a number of cobblers since, but Gerd must have put the word out as they too seem to be going on about some sort of ethical dilemma, and are refusing to do the job.
The customer is always right? Yeah, right.
This has left me no option but to do the transplant myself.
In next week's paper I hope to show the reader my new Gucci Nomads, and then we will see who looks like an idiot, Gerd.