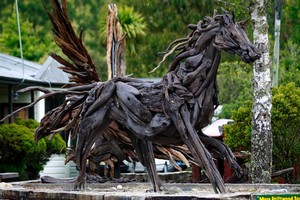 Driftwood never looked so amazing, thanks to a sculptor with a whole lot of imagination.
Jack Marsden-Mayer, originally from Britain, has been turning bits of driftwood into incredible pieces of artwork for about three years.
He has made all sorts of creatures, including a horse, a dinosaur, a kiwi, a tuatara, a crocodile and several moa. He is working on a dragon.
"I take a trip to the beach and get all the nice-looking driftwood. If I'm making a horse, I just note what I need and think, 'Okay, I need a leg', and I'll go hunt for a leg.
"It's just like a jigsaw - and the driftwood naturally lends itself to the shape of an animal."
Marsden-Mayer, who is based in Raurimu at National Park, does commission work and sculptures can cost anything from $1000 to $15,000.
He is just starting to make his hobby into a business and is planning to create a park full of sculptures one day. Vaimoana Tapaleao