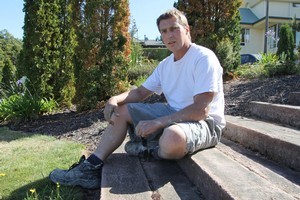 Evan McLellan doesn't consider himself a hero. But four people owe their lives to his selfless actions a year ago.
He witnessed the CTV building collapse, ran towards the dusty wreckage and started hunting for survivors despite the danger. Even when police officers arrived on the scene, he ignored their orders to retreat and continued to search the rubble, finding a terrified family trapped in a tiny hole.
He had been working as a plasterer on St Paul's Trinity Pacific Presbyterian Church on the corner of Madras and Cashel Sts when the quake struck at 12.51pm as they ate their lunch.
When things settled down, the workers ventured out nervously. That was when he saw the CTV building collapse. "I thought it was a controlled demolition ... it just dropped straight down," Mr McLellan said. "I was scratching my head, wondering if I really saw that, and then it registered with me that people were in there."
Read more of Kendyll Mitchell's story here.
He and some workmates ran across to the pile of twisted concrete and steel. As emergency services arrived, he helped them set up their gear.
People appeared on the roof of the building and the team set up a "line" to help them down. But as the trickle of survivors dried up, Mr McLellan became anxious to keep searching.
"The cops told me to stay put but I knew time was precious so I did a runner. Something told me to go round the corner of the building, where all the smoke was coming from.
"I climbed up on top [of the rubble] ... Then I saw something being waved, and ... here was a woman and two kids. I had prepared myself to see bad things - dead bodies, blood, guts and carnage - but I didn't see any of that. I had three people looking up at me, not saying anything. It was a shock."
He said, "Kendyll [Mitchell] was a bit stressed, as you would be, because she could see blue sky and couldn't get out. There was chicken wire and steel from the roof trapping them inside.
"I ripped that back and grabbed the baby [Dita] and picked the young fellow [Jett] up by his jacket and went back to the line I had just left.
"I handed the kids over to a guy in a collar and tie and went back and got Kendyll ... We went back and got another lady from down the same hole [Clemency Mutze]." After that he helped the firefighters to dampen "hotspots" and find fire extinguishers, rope and axes from neighbouring office buildings. Then, finding his services were no longer needed, he went home.
Only now has he spoken about that dramatic day. While he admits to going into shock a couple of times, he knew how to handle a situation that would prove too much for many.
"I've done a lot of jobs, in construction, maintenance, engineering, security, hotels, foundries and blacksmith's," he says. "You never panic, otherwise people die.
"I knew there were people in there alive, and there was no way I was going to run away or abandon them. You stand firm."
- APN