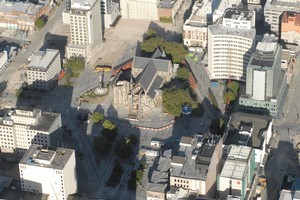 The world has donated a cool quarter of a billion dollars to help Christchurch recover from its earthquakes - but it is still not enough to make up for an expected insurance shortfall.
The six biggest relief funds have raised $251.64 million since the devastating February 22 earthquake a year ago today.
Red Cross recovery communications manager Corinne Ambler said the $115 million raised by the Red Cross alone was by far the biggest sum raised in any public appeal in New Zealand history.
But Canterbury Employers Chamber of Commerce head Peter Townsend said the shortfall between insurance payouts and the cost of rebuilding the city could be around $7.5 billion. The Government has budgeted to pay $5.5 billion.
And the Salvation Army's earthquake response manager, Bruce Coffey, said the city's toughest time might be just beginning as home insurance policies that paid for a year's accommodation, and business interruption policies that covered a year's business losses, expire.
"[Homeowners] are now stuck with having to move back to their own damaged properties because there is no alternative," he said.
"There is some temporary housing but there is a cost involved, and if you are already running a mortgage and are stuck with trying to find another $200 or $300 a week to live somewhere else, it's not easy."
New Zealanders' response to the disaster has been unprecedented. Money raised from sausage sizzles, raffles and individual donations account for most of the Red Cross fund.
The Red Cross raised a further $10 million in Australia and $6 million in other countries.
Many other groups donated to the official earthquake appeal launched by Prime Minister John Key, which has raised $99.94 million. A 12-hour Maori TV telethon in July, with an auction of items such as Lady Gaga's shoes and a guitar signed by the Foo Fighters, contributed $2.56 million.
A thousand people raised $500,000 by climbing London's "Gherkin Tower"; Kiwi expatriates in Shanghai donated $330,000; former Christchurch resident Melinda Laredo raised $37,000 in a silent auction in Chicago; and the 2194 people on the tiny Cook Island of Aitutaki gave $25,000 via a radiothon.
The Sultan of Oman donated US$1 million ($1.2 million). Botswana, with an average income a little over half New Zealand's, gave $62,000.
Stock Exchange chief executive Mark Weldon, who led the appeal's corporate fundraising, said it became "very difficult" , especially after Japan's March 11 earthquake and tsunami which left 19,000 people dead or missing.
"It went from being an emotional conversation [about Christchurch] to, 'Boy, there's a lot of problems: Japan, Haiti, New Orleans, New Zealand. Make your case!'," he said.
He spent "a lot of time having conversations" with Julian Robertson, an American hedge fund operator with farms in the Bay of Islands and Hawkes Bay, who gave $5 million.
He had dinner at Te Papa with Avatar film director James Cameron, who gave $1 million jointly with Fox Studios. Facebook co-founder Peter Thiel, who also gave $1 million, was "a direct approach".
Outside the two main appeals, the Salvation Army raised $18.3 million for earthquake relief. Mayor Bob Parker's mayoral relief fund raised $7 million.
A fund set up by the Historic Places Trust and the three local councils has raised $3 million to help cover the insurance shortfall to restore heritage buildings, matched by $3 million from the Ministry of Culture and Heritage. The ministry also matched Mr Robertson's $5 million, which was tagged for the historic arts centre.
Recover Canterbury, set up by Mr Townsend's Chamber of Commerce and Canterbury Development Corporation, has raised $5.4 million to help small businesses survive.
About half the money raised, $126.1 million, has been spent so far. The biggest items have been hardship grants to families by the Red Cross and Salvation Army.
Canterbury University vice-chancellor Dr Rod Carr, a trustee of the Government's appeal trust, said $33 million pledged had not yet been received. Most cash has been tagged to areas such as heritage buildings and sports, including a $5 million contribution to a $26 million temporary stadium replacing AMI Stadium and Queen Elizabeth II Park.
The trust has lent $3.4 million to reopen shops in converted shipping containers in Cashel Mall.
TOTAL RAISED $251.6 million
Spent so far: $126.1m

Red Cross
Total raised $115m
Major donors: Australian public $10m; other Red Cross societies $6m; Goldman Sachs $1m; NZ public about $98m;

Spent so far: $67m
Emergency & hardship grants: $57.1m to almost 57,000 households
Toilet grants: $3.4m to 6880 households
Schoolchild grants ($250 or $500 to families whose children had to change schools): $3m for 4967 children
Bereavement grants ($10,000 to each victim's family): $1.84m to 184 families
Other grants: $1.7m

Christchurch Earthquake Appeal Trust (NZ Govt appeal)
Total raised: $99.94m
Major NZ donors: $58.3m from bodies including Lotto $14.25m; Julian Robertson, US hedge fund operator $5m; Canterbury Earthquake Heritage Building Fund $5m; NZ Community Trust (pokie trust): $5m; Fletcher Building: $4m; Maori TV telethon Rise Up Chch: $2.56m
Overseas donors: $41.4m, including:US donors: $9m; Australian donors: $8m; Sultan of Oman: $1.25m

Spent so far: $40m
Heritage & culture: $19.4m
Sport & recreation: $9.2m
Hardship: $4.7m, including $2.8m for St John Ambulance to replace damaged equipment
Economic revitalisation: $4.5m
Education: $2.6m
Spiritual & faith: $110,000

Salvation Army
Total raised: $18.3m
Major donors: NZ public: $15.8m; Ministry of Social Development: $1.1m; Overseas & other sources: $1.4m;

Spent so far: $8m
Welfare: $4.3m, including $1.4m on $500 "care cards" for needy families, and $1m for 20,900 chemical toilets
Earthquake Recovery Hub: $1.4m
Counselling & psychosocial support: $1.3m
Initial disaster response: $600,000
School support: $400,000 including school-based community workers

Mayoral Earthquake Relief Fund
Total raised: $7m

Spent so far: $3.7m
Restoring damaged playgrounds: $400,000
World Cup fan zone in Hagley Park: $200,000
Memorial for unidentified quake victims: $170,000

Canterbury Earthquake Heritage Building Fund
Total raised: $6m (+ $10m for Arts Centre included in Chch Earthquake Appeal Trust accounts)

Major donors: Fletcher Building: $1m, Public appeal: $2m, Ministry of Culture & Heritage: $3m (matching funding)
Spent so far: $3.47m (+ $10m for Arts Centre)

McKenzie & Willis Building: $1m (cnr of High & Tuam Sts, PIC?)
Billens Building: $750,000 (next to McKenzie & Willis, PIC?)
Woods Mill, Addington: $750,000 (PIC?)
Others: $970,000

Recover Canterbury
Total raised: $5.4m

Major donors: Ministry of Economic Development: $2.5m, NZ businesses & individuals: $2.9m

Spent so far: $3.96m
Grants & loans to 255 businesses: $3.7m; Wage subsidies for new young employees: $100,000