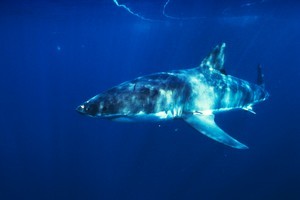 The fishy tale of a great white shark stealing a bronze whaler from two fishermen on Tauranga waters has been joined by other strange sightings at sea.
Kerry Grant and William McIntosh were fishing 1.5km from a beacon near the entrance to Tauranga Harbour when a "huge" great white rose from the depths to snatch a bronze whaler the men had just released.
The story circulated around the Bay over the weekend, although many were sceptical.
"I don't expect anyone to believe us actually," Mr Grant said. "The one reason we reported it was for the safety of people. We know what we saw, we were just as surprised as anyone."
Mr Grant has been fishing for 20 years and is familiar with the shark varieties found in Tauranga waters.
He is adamant the shark was a great white.
Mr Grant had just released a bronze whaler and was watching it speed away when the great white appeared and swiftly killed his shark.
"Minutes later this thing jumped clean out of the water, black on top and white underneath. It was round enough. It was huge. It was like Jaws material."
Mr Grant said he decided to tell the coastguard in case " someone gets eaten... We were really concerned that it was so close."
Tauranga Coastguard were unable to find the report in their log book for Tuesday.
But a lack of evidence hasn't stopped talk of the lads' close encounter from circulating.
Mr Grant said: "We expected no one to believe us because I would have had trouble believing it myself."
Fatboy Fishing Charters' Rus Hawkins said normally he would think such a sighting was unlikely but these days he's open to fishy stories.
Mr Hawkins said tales of unusual animal sightings at sea were on the increase.
"Three days ago we saw a big seal all the way off Mayor Island in the middle of the ocean, just swimming along.
"We also saw a manta ray. I've only ever seen two in my 42 years of living at the Mount. It's so unusual to see them here."
Tauranga Fish and Game Club manager Grant Holley said he heard rumours on Friday of the great white. "I'd hate to think so but strange things have happened ... " Mr Holley said.
In November 2010, local fisherman Alastair Blair snapped pictures of a 3m great white when it began circling and hitting his 5m boat at the north entrance of Tauranga Harbour.