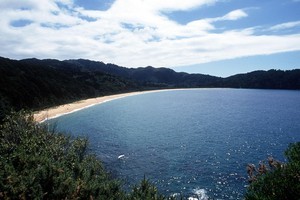 A New Zealand family is forking out millions to upgrade conservation at Abel Tasman National Park.
The family, which wants to remain anonymous, has set up the Project Janszoon Trust, which will work with the Department of Conservation (DoC) to restore the variety of plant and animal life to about 80 per cent of the park over the next 30 years.
Conservation Minister Kate Wilkinson today praised the family's generosity in launching the multimillion-dollar project, saying conservation was not just the domain of the DoC - "it is everyone's responsibility".
"Here we see community leading the way and I wish to congratulate the trust for instigating this very valuable initiative."
The project includes planting programmes, pest control, education initiatives and wildlife recovery programmes, and hopes to bring back native species such as the great spotted kiwi, mohua (yellow head) and sooty shearwater.
Ms Wilkinson said tourism operators had already contributed to conservation work in the park, and Project Janszoon would build on that.

- APNZ