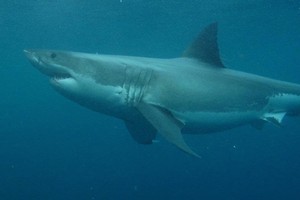 A great white shark could be circling the Bay of Plenty.
Just over a week after two fisherman reported a "huge" great white near the Tauranga Harbour entrance, a surfer has said one cruised "very close by" while he was surfing with several others near Mt Maunganui.
"This shark was larger than a 12ft surfboard and had huge pectoral fins with a very large girth - and cruising water as shallow as 1.5m. Its demeanour seemed rather inquisitive and docile.
"I was left in awe at seeing such a magnificent creature so close to land and in its natural environment."
Last Tuesday, fishermen Kerry Grant and William McIntosh claimed to have seen a great white that leaped from the water clutching a bronze whaler shark they had lip-hooked.
"It was just huge, so huge, and we both couldn't speak for a little bit ... it was about as wide as the bonnet of my Nissan Cefiro - this thing was Jaws material," Mr Grant said.
Another person reported spotting the same shark that evening while surfing near Mt Maunganui.
Department of Conservation shark expert Clinton Duffy said it was "very possible" a great white was prowling the Tauranga coastline.
"They've been seen there before - in fact, there were quite a few sightings I was able to confirm as white sharks in the Bay of Plenty last year."
Mr Duffy said there were reliable reports from the Bay of Plenty of great whites close to 6m long.
He asked that further sightings, preferably with photographs, be emailed to sharks@doc.govt.nz
MONSTER WATCH
* A 5m great white shark dubbed Brutus was spotted patrolling the Bay of Plenty for several weeks in the 1990s.
* The 6m "Taranaki Terror" grabbed headlines nationwide in 2004 when it lunged at a small runabout off Waitara, leaving teeth marks in its hull.
* A great white that cruised past children on sea biscuits on the Coromandel Peninsula last summer was so large that one fisherman said people looked like bait next to it.